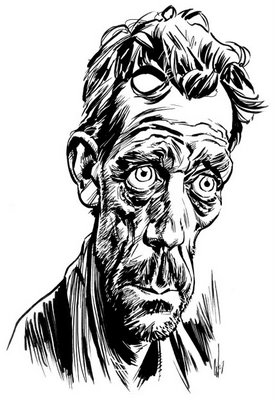 Sorry, I gotta make this one short and sweet.  I got a barfing three year old on my hands.   They don't like to accomodate you at that age, if you're familiar, so I have to play "moving target" ovah heah.
Anyway, the Jacksons didn't do much today, and you can see my comments below.  The two big movers were [[TC]] — which is just a Godzillian monster ripping down ricepaper buildings in Tokyo — busted right past my 61.8% long term fib line today and proceeded to keep going.   I wanted to sell the calls only to find  — to my deep chagrin and embarassment — there were none.   So I sold one third of my position, as reported, at $11.21.   I guess we'll find out very soon if that was a bad move, but considering I had gotten those shares in the low sixes, I could not complain.  
[[TBT]] is the other marching gorilla, responding to all kinds of distress out there in Ten Year Bond land.   Well, I just don't think we're going to crack 4% on the first attempt here, auction or not.   I just think that's too easy.   I will likely sell the calls again tomorrow on any further march to $60, keeping in mind we may have seen the high water mark this afternoon at $59.79.
Only [[PAAS]] was over 2% for the rest of the Jackson's and only [[ANDE]] — which needed a rest — was down more than 2%… so, a blah day.
I will caution you to watch the PM's tomorrow however, as I got the feeling that this current consolidation may be coming to an end, one way or the other.  Stay alert.
On non Jacksons [[ENTR]] finally broke out a bit and [[ANV]] showed nice relative strength considering the paucity of movement in the rest of the gold sector.  That may be one to own when we start moving again.   
That's all for now, save the list.   Be well everybody, and watch the puke flu.
______________________
{I know I keep fiddling with the format of this performance chart, but please let me know if you like this latest idea of putting the prior day's post in for comparison's sake.}
Name
9-Jun
10-Jun

% Change

 

Comments

ANDE

 

$ 31.30

 

$

   

30.48

-2.62%

 

Still on the trendline.

EGO

     

9.21

        

9.13

-0.87%

 

Would like to see it kiss the st trend line @ $8.90

GDX

   

41.09

      

40.80

-0.71%

 

Hanging on 61.8% long term fib.

 

Added 1k today @$40.88

GLD

   

93.83

      

93.86

0.03%

 

POG down about $2.

 

Waiting.

IAG

   

10.17

      

10.21

0.39%

 

Holding pattern.

MON

   

85.07

      

85.85

0.92%

 

Dropped and recovered nicely all afternoon.

NRP

   

24.11

      

24.01

-0.41%

 

Looking for a breakout above $24.60 to "prove"

PAAS

   

21.71

      

22.15

2.03%

 

Looking to get over $22.30 in the morning.

RGLD

   

44.37

      

43.90

-1.06%

 

Touched the trendline as expected, should go north from here.

SLV

   

15.03

      

15.01

-0.13%

 

PO Silver down a mere 8 cent.

SLW

   

10.29

      

10.18

-1.07%

 

Will it get to the trendline @ $9.90?

  

SSRI

   

22.59

      

22.75

0.71%

 

Making a move for the top of the cup again.

TBT

   

57.22

      

58.77

2.71%

 

Missed $60 by fitty cent.

 

Waiting for auction to sell calls.

TC

   

10.58

      

11.32

6.99%

 

Just a freaking monster.

 

Took 1/3 off @ $11.21. Mistake?

TSO

   

15.51

      

15.35

-1.03%

 

Needs to show me something here, or buh-bye.

AVG
 
 

0.39%

 

 
Comments »