[youtube:http://www.youtube.com/watch?v=bv3KCNDST5c 450 300]
_____________________________________________________________
Crushed? Debilitated?  Blown out beyond all reason?  Yes, you could say that.
Sentiments levels?  Dead!
Long term bull trend? Dead!
Neidemeyer?  Dead!  (Ok, so Animal House was on tonight)
All kidding aside, we saw a similar "interruption" in the last great secular  bull cycle in the mid-70's ('74-76) when the Fed and the Fisc made promises to "Whip Inflation Now."  That 50% pullback from was followed by a 350% price move to the peak in 1980.   Are we in for the same shennanigans?  Well, we're now 36%+ off the highs in the gold price, and more than 67% off in the Gold bugs ($HUI) index.
What's even crazier is the stretch $HUI has taken below it's 200 day moving average, the traditional "revert to the mean" line of demarcation.  Usually, if we get more than 20% below that level, we are going to see a reversion.   We are now 46.5% below the 200 day Simple Moving Average.
If I had any credibility left I'd tell you I'm looking for a bounce here.  So maybe consider that comment ironically, if that helps….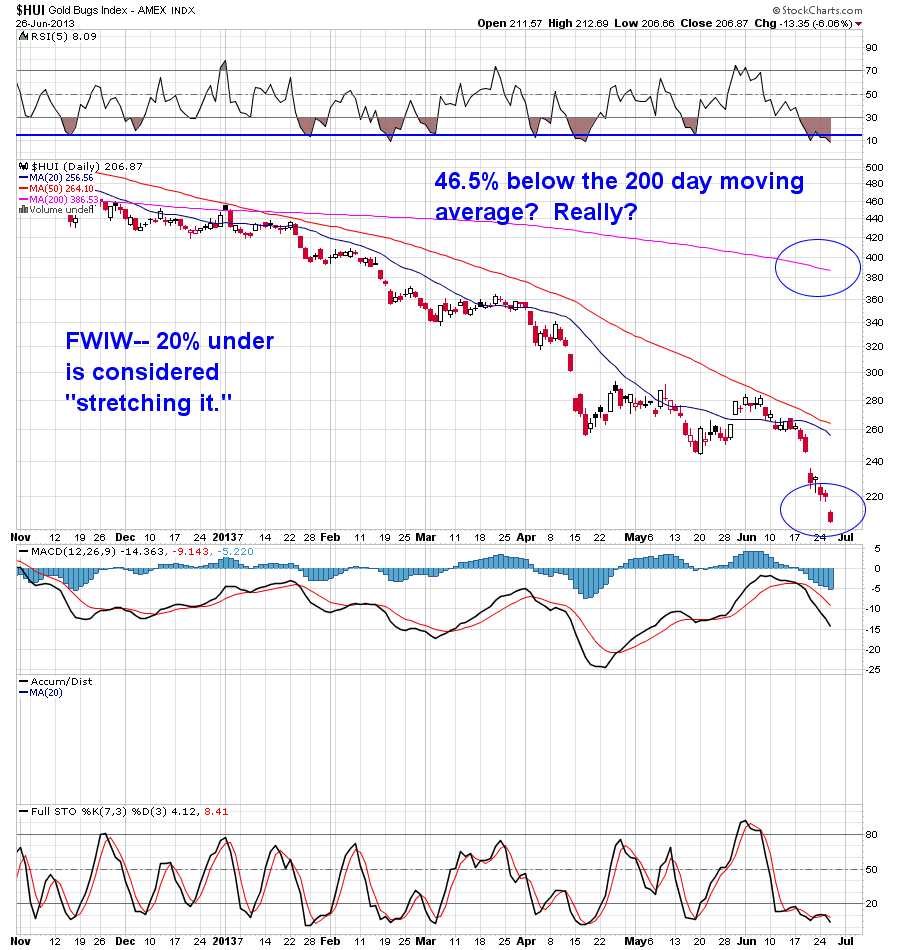 My best to you all, really!
_____________________________________
If you enjoy the content at iBankCoin, please follow us on Twitter