There are 3 appropriate acronyms for the word FEAR. F.E.A.R.
Fail Early And Often (good advice for gaining experience and learning quickly, and learning how to manage it… but not a good "mantra" to drill into your subconscious mind.)
Then there is the legitimate kind. (F&* Everything…. And RUN!)
And finally "False Evidence Appearing Real"…
The reason I prepare with the charts and such is so I have a good enough read and enough knowledge of the situation to consider MULTIPLE outcomes.
In the most recent case, I was fully prepared to begin shorting at dow 15500-16000 and started actively hedging via short GLD before the first drop, long the dollar (UUP) and long the Yen (FXY). But once 15500 hit which happened to line up with the euphoria in the news that Bernanke would keep QE going, I jumped into action and grabbed some weekly 164 puts. This is what I was looking at this Monday.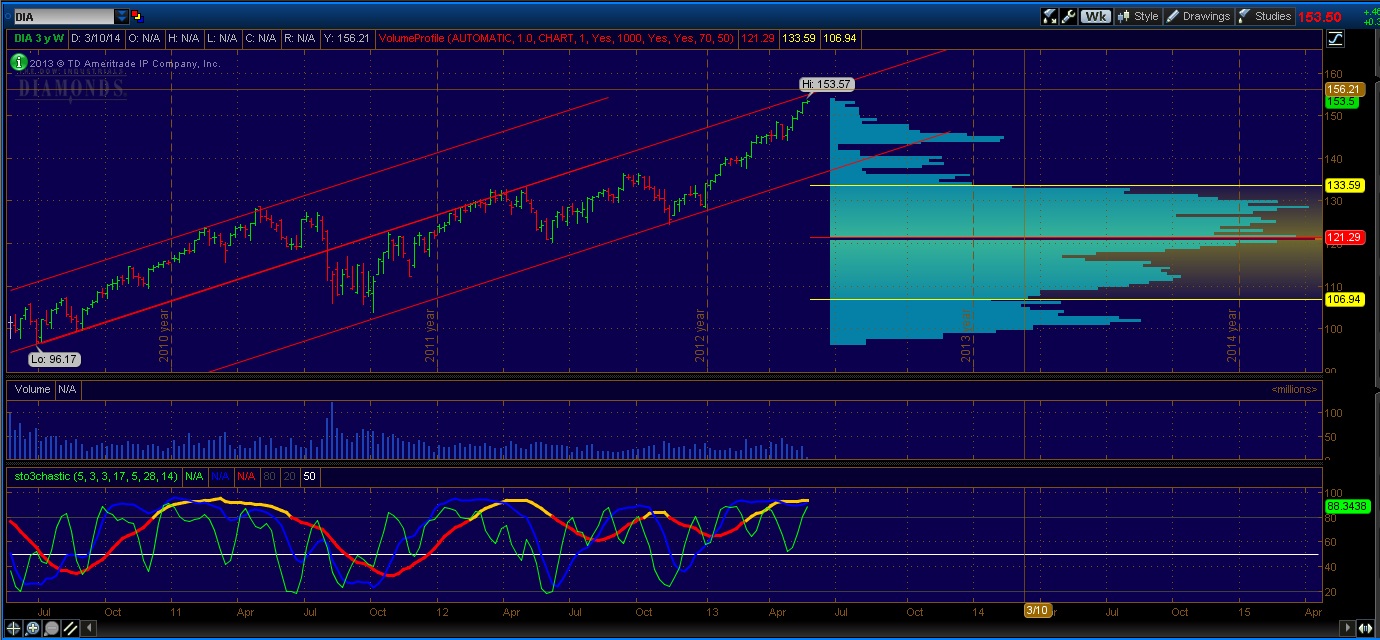 And I had previously posted this longer term chart…
Also, "Luv2Gambool" had a great post on the market topping that provided me with a bit more conviction.
I had began adding puts to attempt to call a top from last Friday. Yesterday was my first attempt at weekly options which was an aggressive play. I was surprised to get the fill at 0.05 for 164 puts on the SPY. I put in the order then I brought up the charts and before I could even see where we were, the puts filled. I was getting ready to edit the prior order to .10 to make sure they go through because I saw how the 15500+ range was a great spot to get short and I wanted in immediately. It wouldn't go through because the trade executed. So I went to put in another order only to find the bid was already above .10. I ended up not putting in a second order on the weeklys, but it's okay because I sold half at .35 and today sold half of the remaining half at 0.60 as well as half of the puts the first week of JUNE. I then added an AAPL call. WHY suddenly go from expecting a 10% correction to making a bullish in a leveraged name with a leveraged CALL option?
Sentiment. F.E.A.R. It was a lot of "FALSE EVIDENCE APPEARING REAL" Nikkei down 7% reminded me a lot of the Lehman bankruptcy that caused capitulation bottom. Everyone was suddenly so fearful. I also have to tell you, with options, much less weekly options, you can go from neutral to super bearish in your portfolio very quickly when you have a gap lower like this. And I wanted to at least lean closer to neutral after a move downwards… If not bullish. But that was after long periods of a 2 year wreckage this is near the highs. I don't know, maybe Japan had their "1987" type event. Interestingly enough, it was the 1987 event and talks of manipulating the dollar 50% lower that shifted capital TO Japan leading up to 1989 Nikkei bubble in the first place. Well now there is a "1987 event" 1000+ point down day in Asia…. Does that mean capital could shift back into the US and form a bubble? Of course. Regardless, there is a lot of domestic and foreign capital that got out of the Nikkei and Asia names. There is a lot of capital moving around. That means the potential for big moves. For the time being there still is the possibility that we retest, breakdown, and correct. Or we could have already bottomed. I would keep a close eye on yesterday's LOW and more importantly yesterday's CLOSE. It is at this point that I may add some puts with more time on them since we could very well chop around here if this is the worst of the flushout for the next few days. I see a tight range followed by a break. My bias on a more reasonable time frame that isn't so fickle about shifting around every couple days is short until we break and close above yesterday's high. My longs have been done with a HALF position size.
Note:I also added GLD calls of all names! 130.75 is where I give up on it. If the lows give GOLD sees a quick drop to 1200. But we are oversold here so I think it will possibly retest the breakdown point before that happens.
I also added FCX calls. Both July dated. I was going to wait until GLD hit 1200 before I added FCX, but I like GLD's spot. That big pivot move off it's low makes me bullish as long as we clear GLD 135 in a few trading days (and stay above the low) I will stay in the name. The stop is just below the low until we start moving above 135. Then I raise the stop based on it's 3 day low. Eventually I loosen the stop if the move is working. Ultimately for now I am looking for at least 140 to the upside.
Also added the VIX exposure (VXX July Calls) as we retested yesterday's low and successfully filled the gap. Nice inverse head and shoudlers setting up in the VIX too. Lots of moves today
If you enjoy the content at iBankCoin, please follow us on Twitter