That's right.  I'll raise my hand, I'm the d-bag that made a lousy entry into one of the most hideous stocks of the past week, $ELLI.  Why did I buy this stock here?  I was looking for an upside reversal.  Unfortunately its looking like I caught a falling knife or at best selected an ill advised entry point.  My decision to buy wasn't based on fundamentals.  My main interest in fundamentals for short term trades is in avoiding bankruptcies while I own the stock.  It also wasn't an earnings "play."  Homie don't play that game.  Earnings for this stock are coming soon, on 2/14 and I intended to sell prior to earnings rather than risk a big sloppy Valentine's Day mouthful of rotten tongue.  But I digress.
Looking at the accompanying annotated chart I denote where I made the buy, a half size position at $20.60 on Friday 2/1, during the early market euphoria.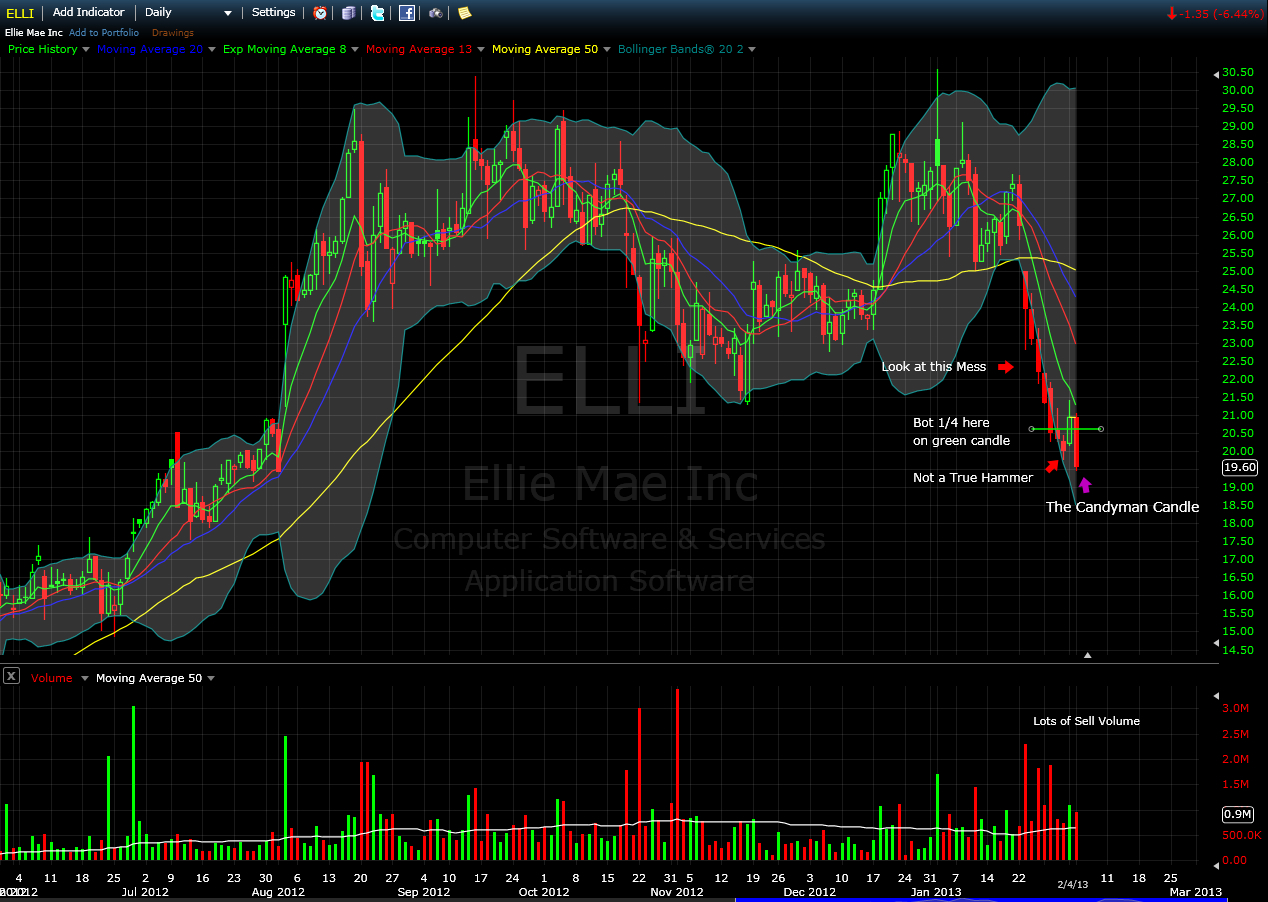 Rule Break #1: Beware buying weak stocks in confirmed downtrends on stupidly euphoric market days – things don't appear as they really are – especially this late in a broad market move/trend. The markets rallied Friday as more ersatz economic data was spun in a positive manner, as is usually the case in bullish periods.
Rule Break #2: Wait for a confirmation candle following a hammer.   In fact, wait until there is an actual hammer – don't invent one – as I did.  We are not Bureau of Labor Statistics and can't just make stuff up.  I had been stalking this stock and convinced myself that the 1/31 candle was a close-enough hammer.  Well guess what?  It wasn't a hammer – it was just a less shitty looking candle than most of the rest of the past week.  Volume was still elevated though it looked to be taking on a bit of a Gaussian distribution during the selloff (perhaps not capitulation price and volume).  Also note the stock had a steep prior downtrend where daily price was riding the lower Bollinger Band down like a submarine doing an emergency deep dive.  (So much for counting on Bollinger Band bounces BTW…).
So after buying early on 2/1 $ELLI behaved well, rising quickly and flagging out the rest of the day on good volume.  Ok…so far so good.  "Hammer" candle, check. Confirmation candle, check.  "Decent" up volume on Friday, check (though still less than previous selling vol.).  Fast forward to Monday 2/4 where the market sold off some of its recent froth.  Stocks like $ELLI get pounded into the dirt when markets no longer want MOAR.  In fact, $ELLI was deballed to the tune of about 6%.  Reversal fail.
But wait, there's more.
Rule Break #3: Use Stops, they work.  I intentionally did not in this case and was wrong.   I had just bought the stock with the intention of swing trading it.   At my day job, which apparently I won't be quitting anytime soon, I didn't notice the stock was getting hammered down until after it was already a few percent below where I bought it.  So I held and monitored the rest of the day as it continued to plumb lower lows.  Which leads to…
Rule Break #4:  Be decisive, don't be a deer caught in the headlights.  This was intended to be a short term swing trade to be sold prior to 2/14, there is no reason to ride this pig down like Slim Pickens on a hydrogen bomb.
Rule Break #5: I bought a 1/2 size position as an initial entry, which I frequently do to manage risk, but in this case, a 1/3 or 1/4 size would have been more appropriate given the elevated riskiness of going long given the recent price and volume action.
So net/net I still own this piece of shit and will likely sell the entire position on any further sustained weakness on Tuesday, after waiting for the robots to complete their fleecing of market participants during the opening 15-30 minutes.  The stock has filled the gap below from last August and support below this level is anyone's guess.
For those interested in playing reversal or hammer candles, refer to Brian Lund's excellent blog post on this subject:  5 RULES FOR TRADING A REVERSAL HAMMER
I leave you with Siouxsie and the Banshees singing about a far more frightening subject, Candyman.  Avoid getting molested by the market.