Sir Isaac Newton's Third Law of Motion is commonly known as: for every action there is an equal and opposite reaction.  Mathematically, this is generally expressed as Fa = -Fb.  We won't torture  our Business and Finance Major friends by developing free body diagrams, force equations or rigorous mathematical relationships to relive the joys of  University engineering curricula however, the concept can often be useful as applied to human behavior.  This would include the central planners over at Japan, Inc.
For the past few months, the Japanese Central Bank (JCB) has been acting to aggressively devalue its own currency against all virtually comers in an attempt to stem the tide of decades long deflation – aka, the lost decade(s).  What has been the affect of this?  We all know…declining JPY and generally rising Japanese stock markets.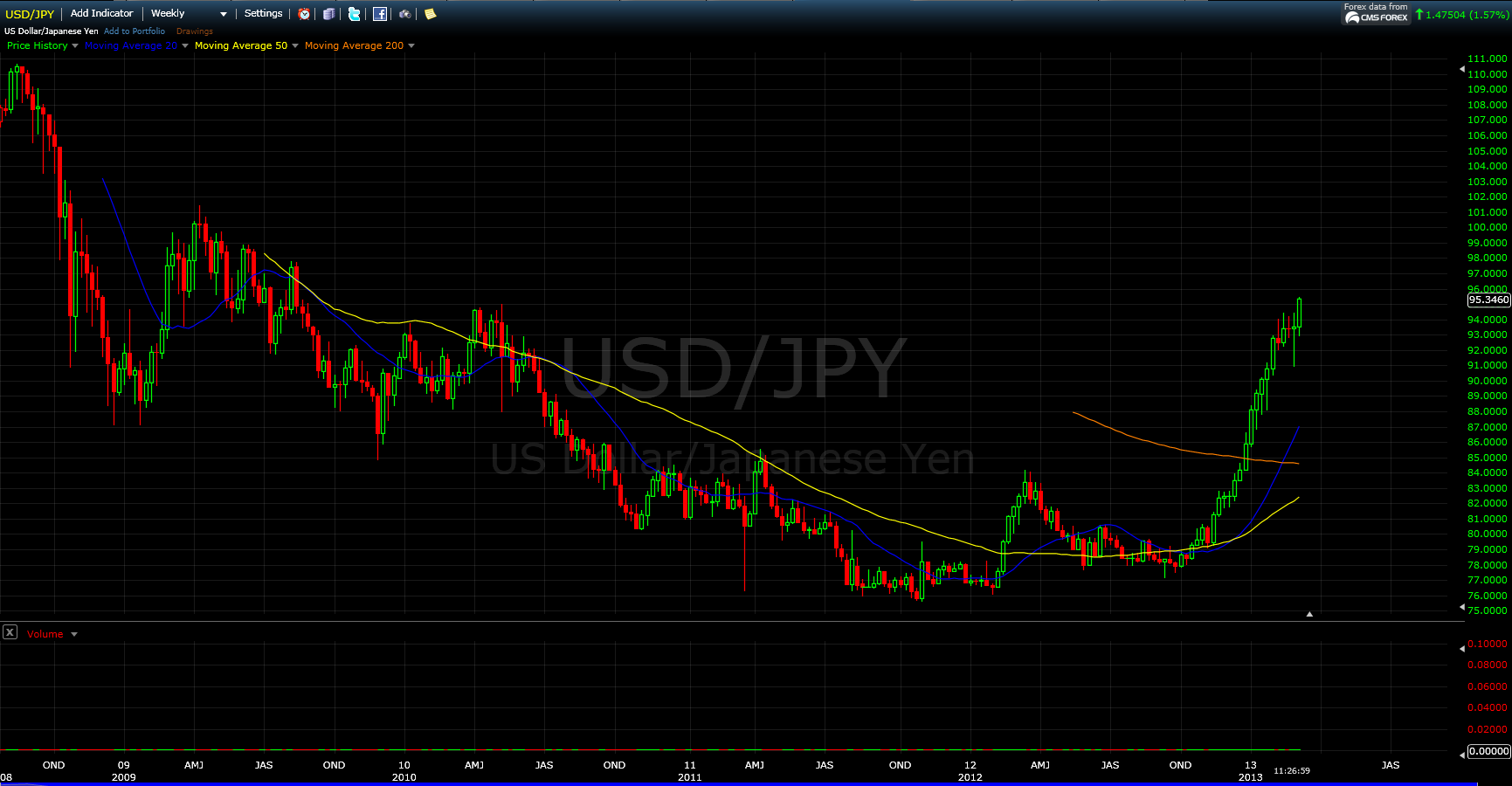 EWJ Weekly. Breakout from symmetrical triangle: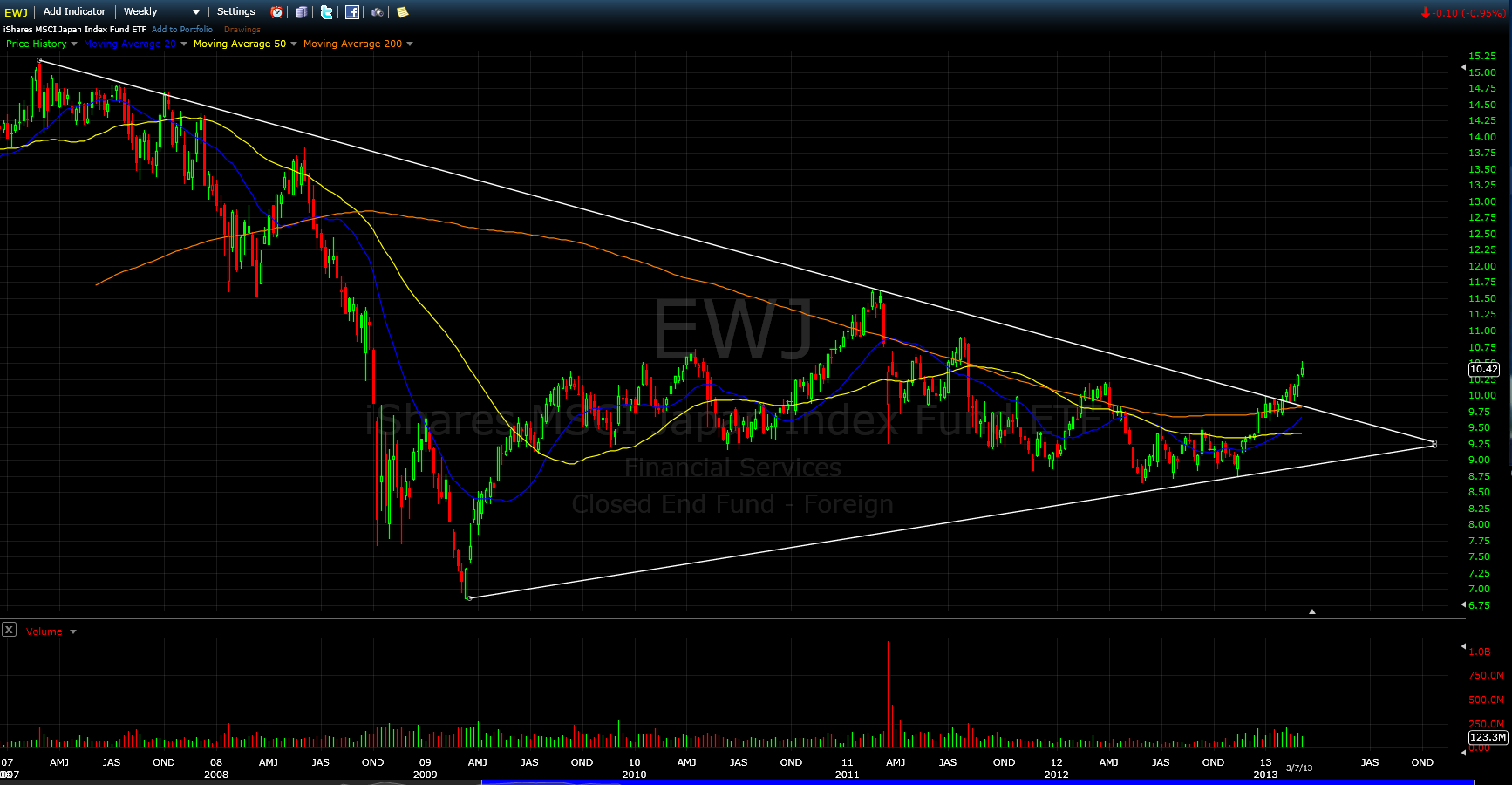 DXJ, WisdomTree Japan Hedged Equity Index, which is long Japanese equities and also hedged short the JPY against USD. More on DXJ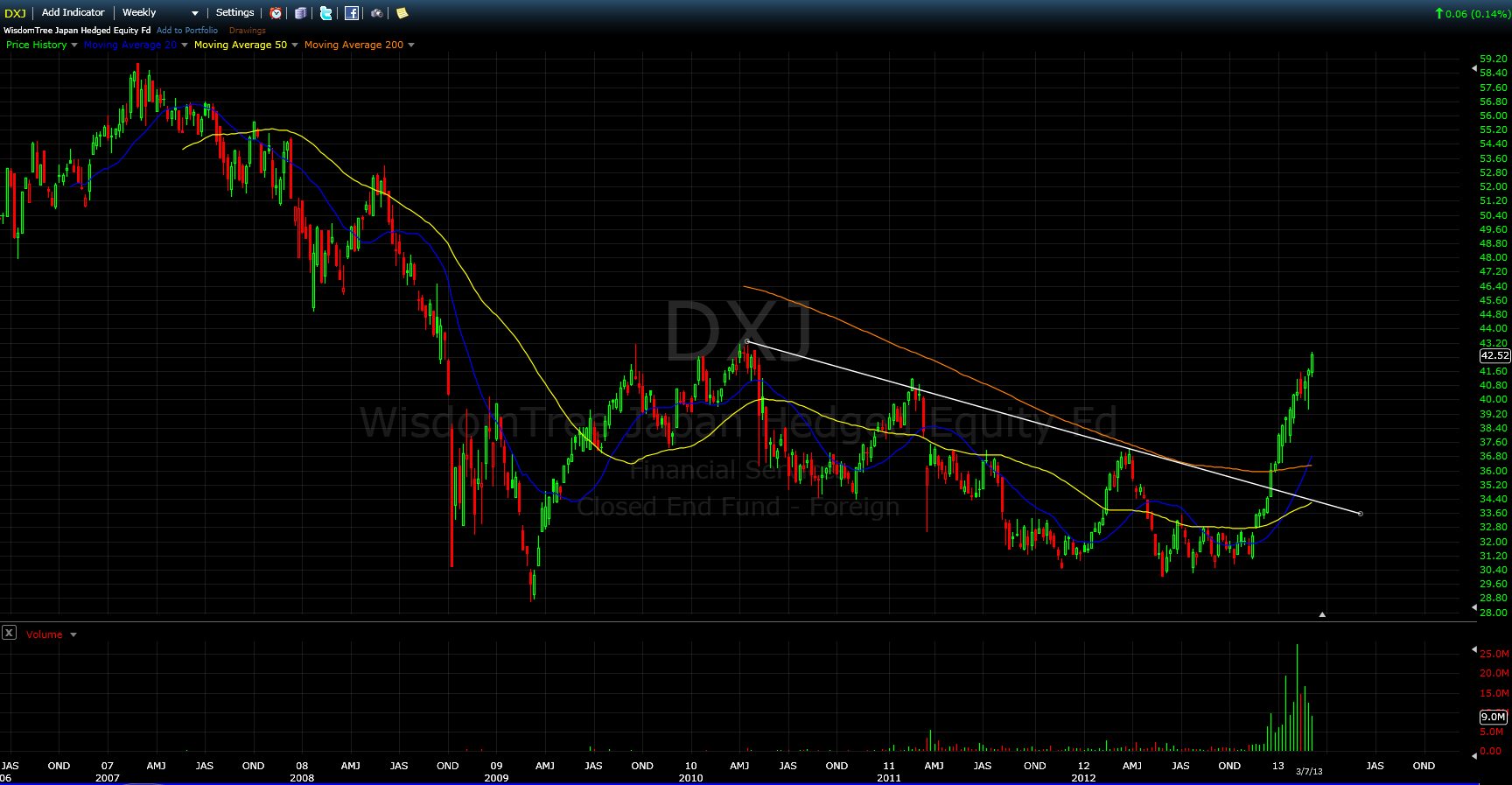 Looks great.  Japan's rallying.  Let's look at some well known Japanese companies that also play in the US.  Differing time intervals provide an interesting picture here.  Beauty can be in the eye of the beholder.  First Sony, then Honda and Toyota.
SNE Monthly.  Possibly a bullish declining wedge ready for an upside breakout: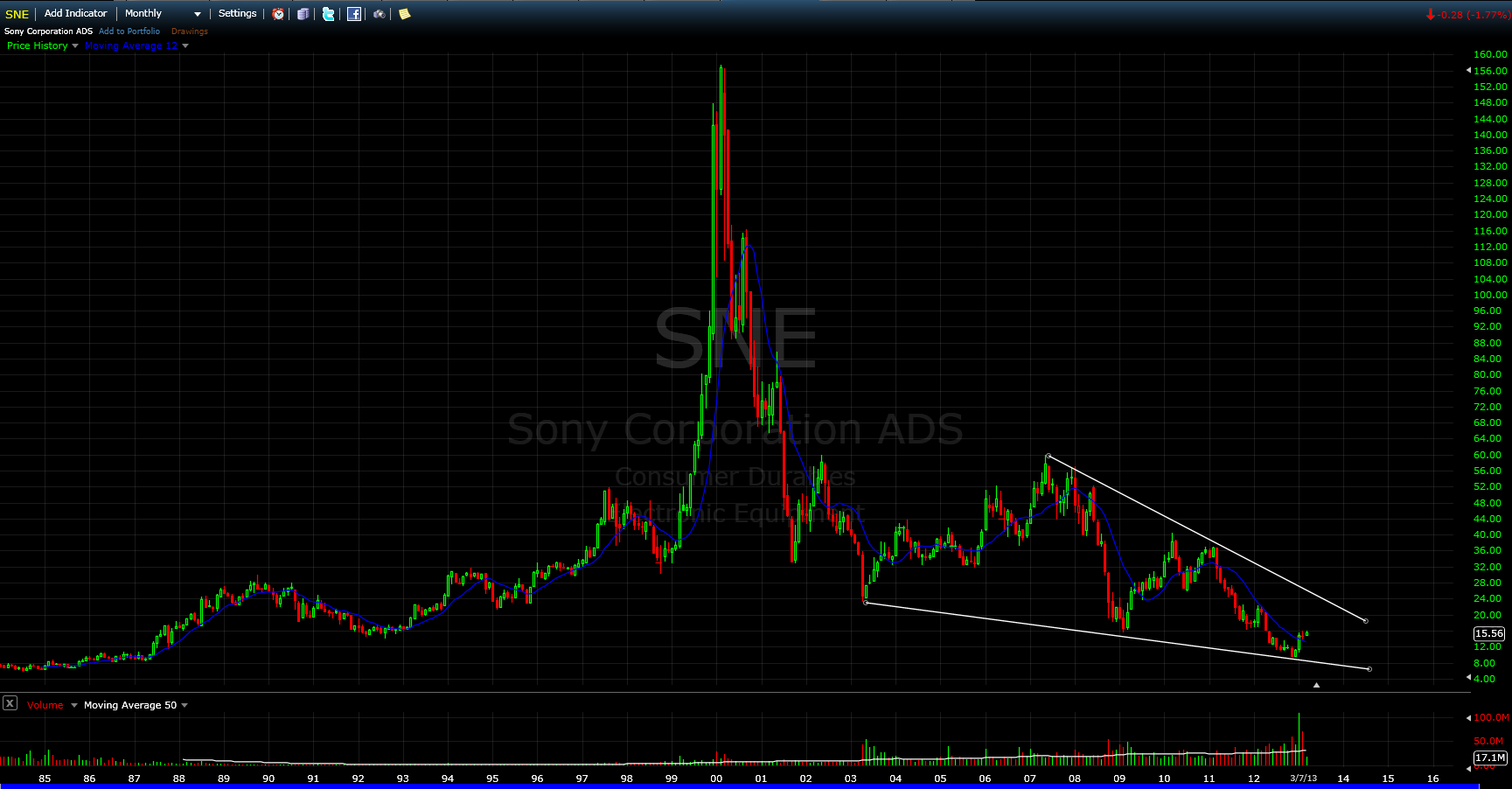 SNE Daily: Maybe the breakout doesn't happen so fast – Double Topping?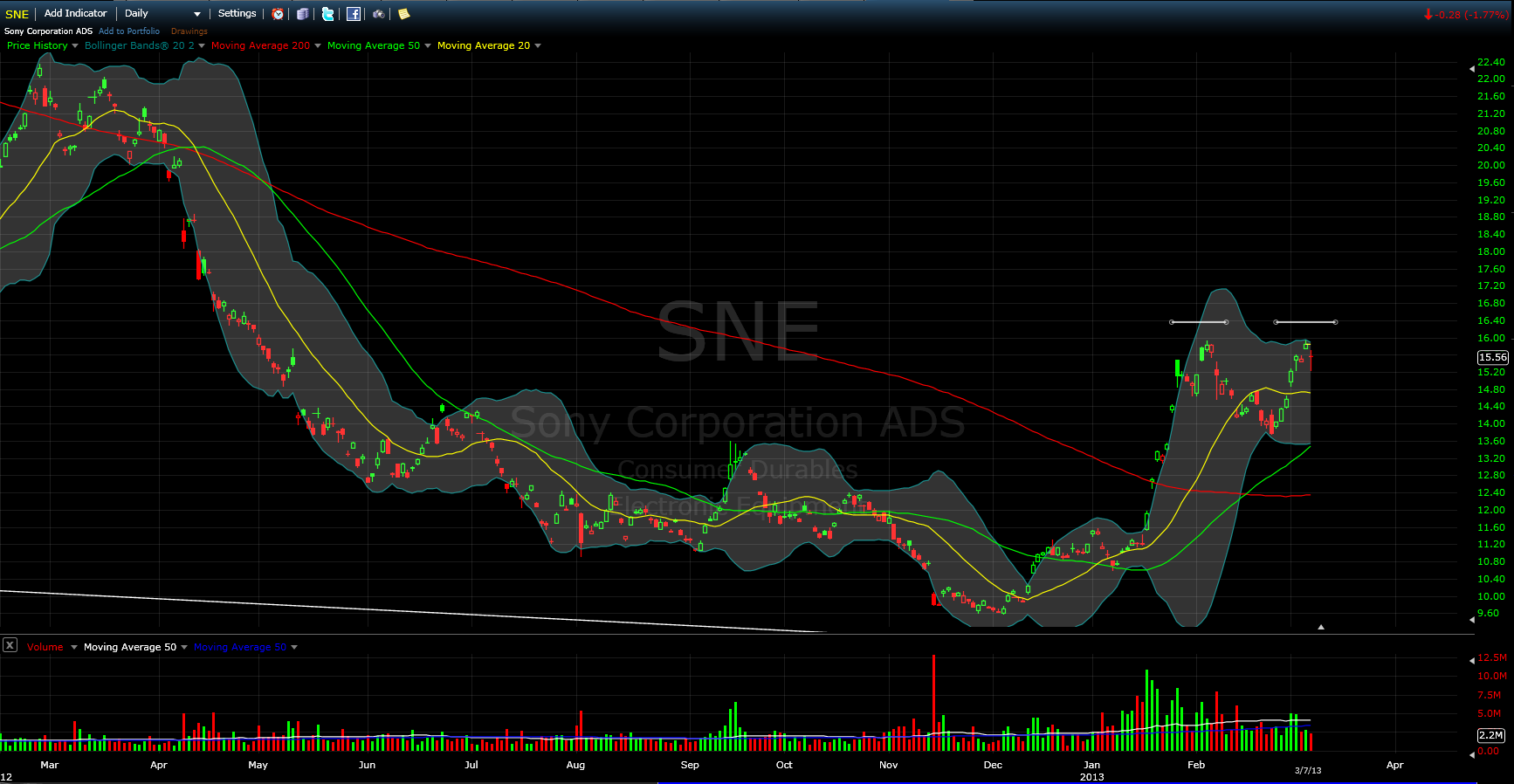 HMC Weekly – Nice Triangle Breakout: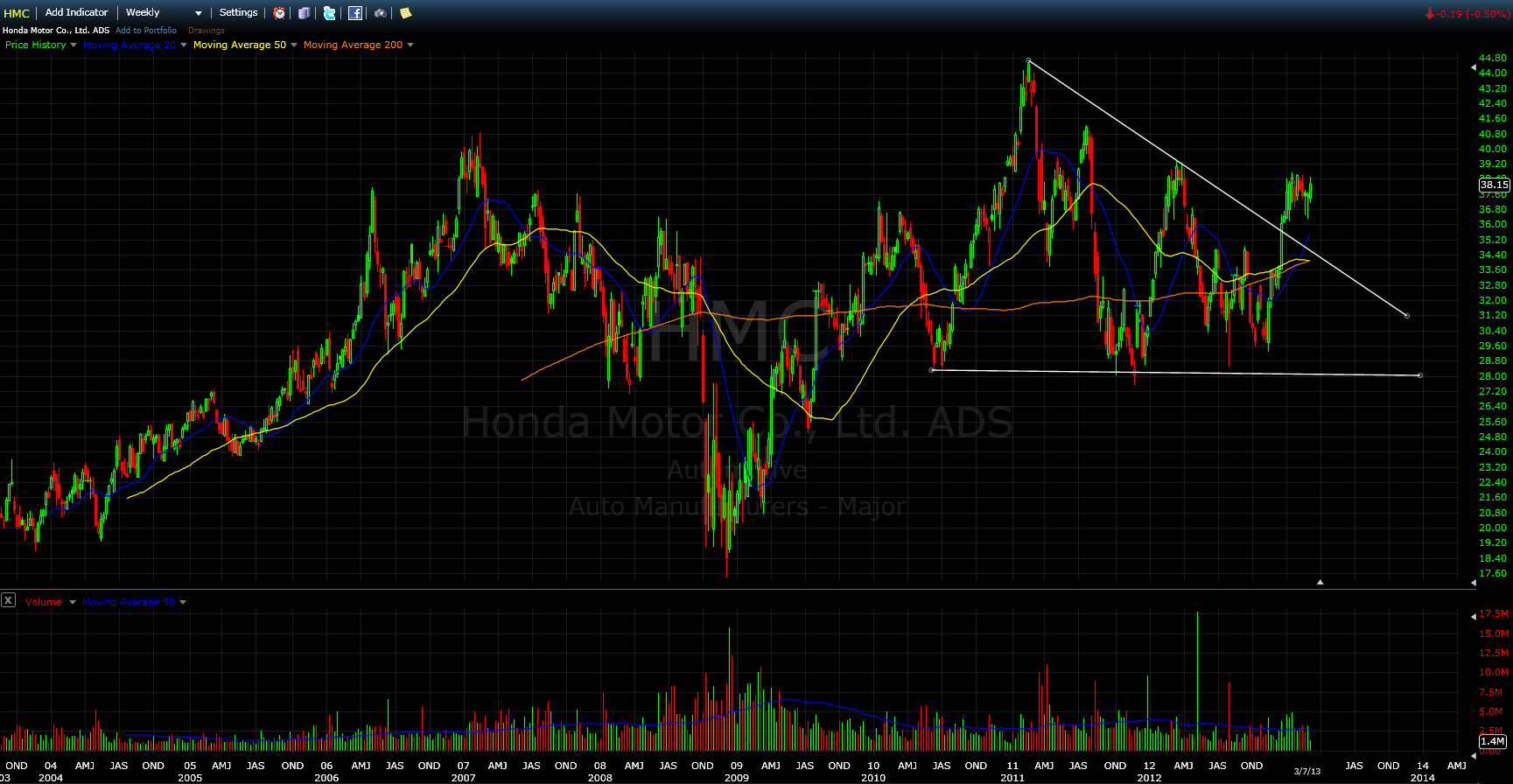 HMC Daily – Maybe some resistance: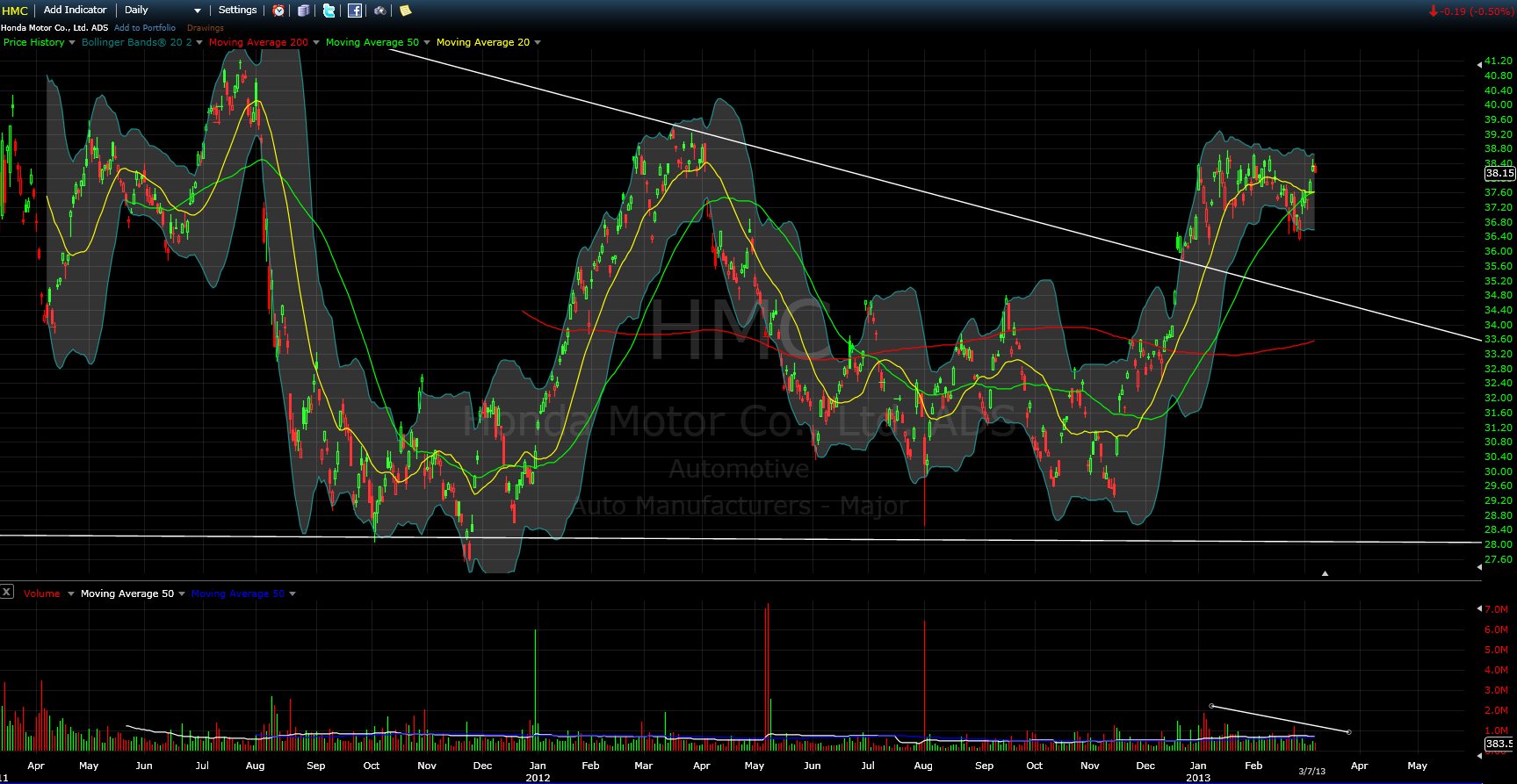 TM Daily – Looks Great: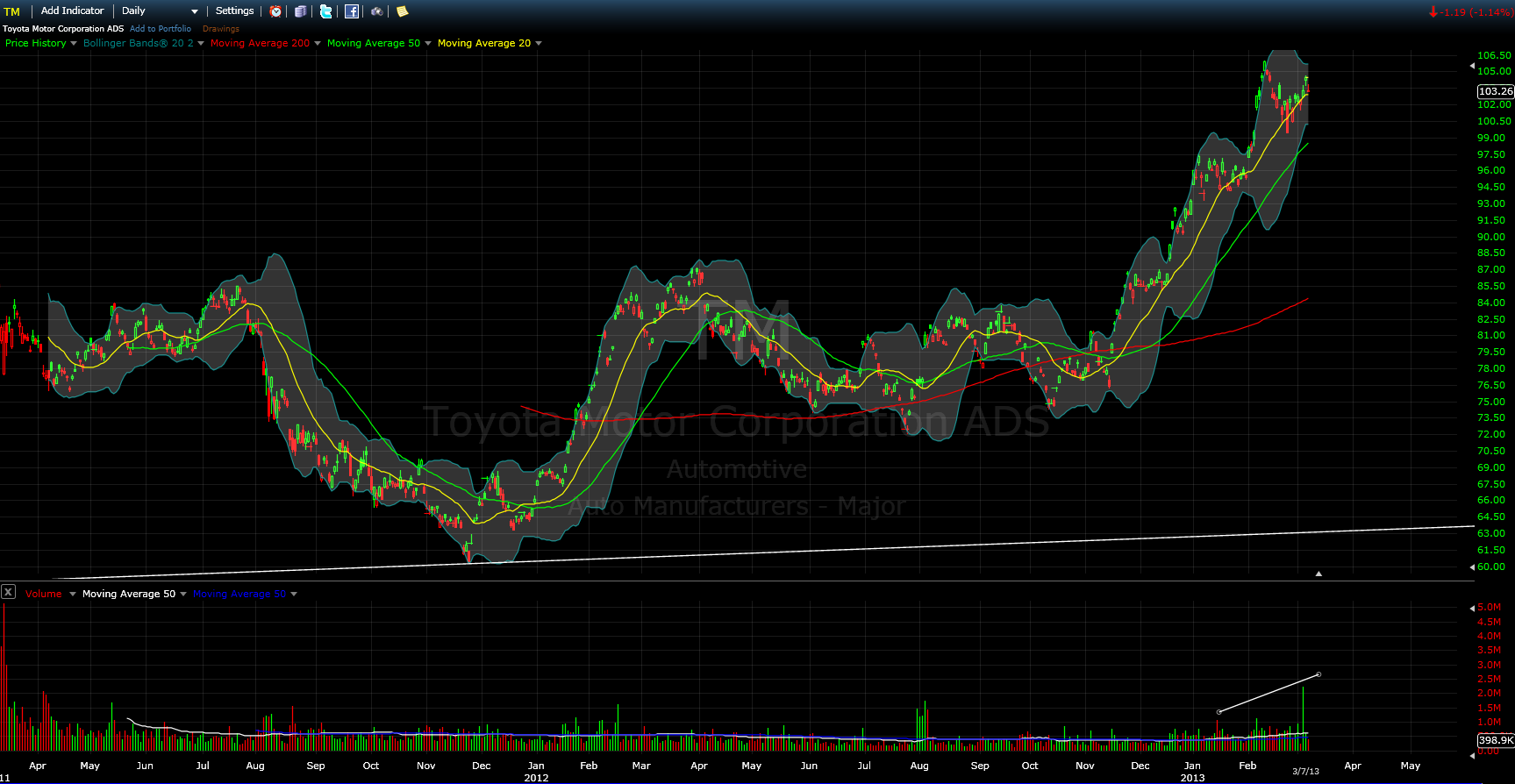 TM Monthly – Looks Maybe Not so Great: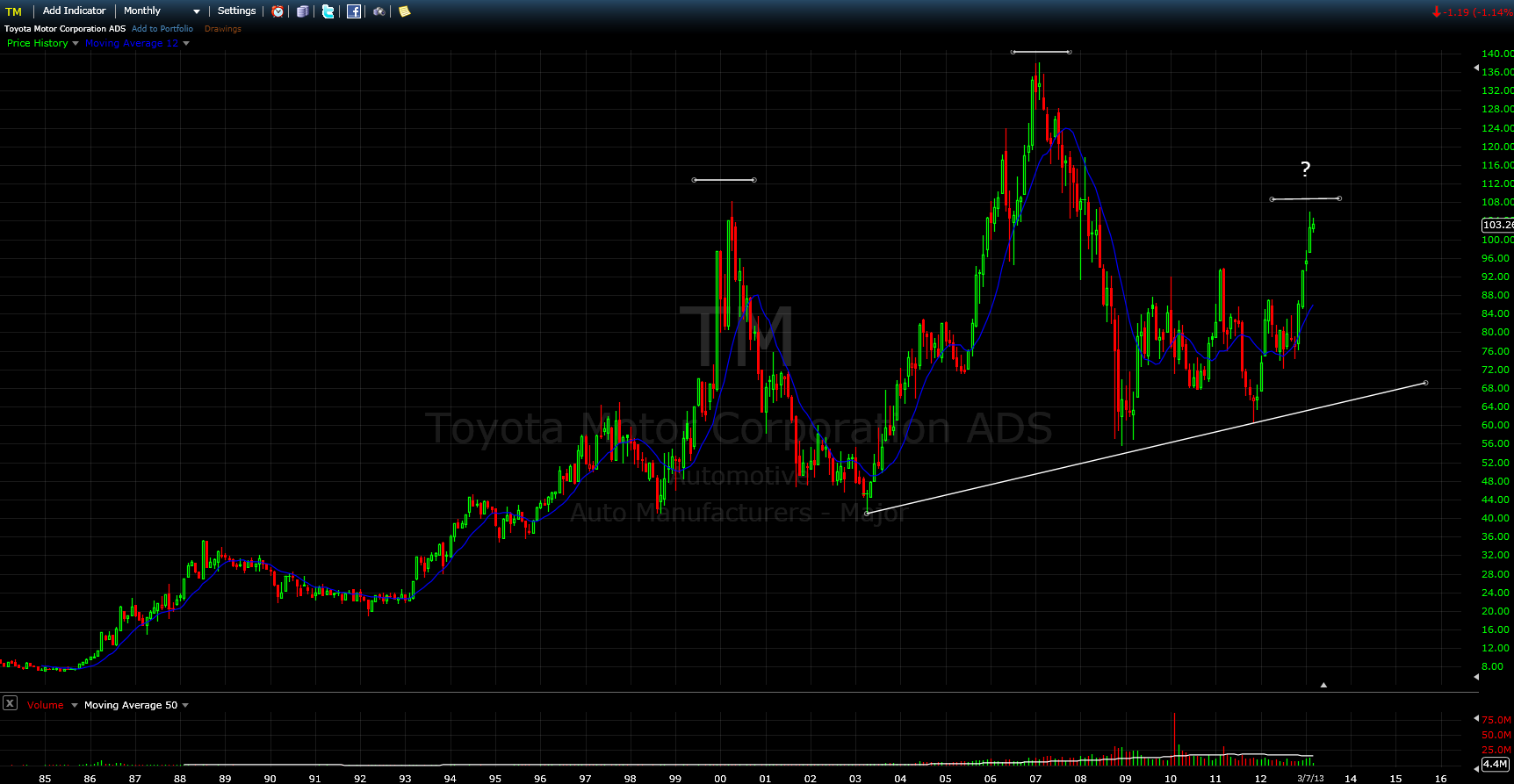 These charts leave me with mixed feelings, depending on timeframe. Given the fast runup here, I'm inclined to tread carefully.  I traded SNE for a nice win in January but we could very easily see a pullback in this sector before perhaps another manipulated push higher.
As a broader observation, this latest JCB effort has gone about attempting to fix their economic problems in perhaps a less nuanced way than the US Federal Reserve Bank, but the end result for equities has been roughly similar:  MOAR.  The JCB has been trying to keep the JPY underwater for decades but the dead body keeps wanting to rise to the surface.  So of course, like good central planners, they are promising new massive doses of the same old thing to keep the bodies below water.  Japan's initial response to its Real Estate and attendant financial system near-death-experience in the early 1990's was to Zombie Up their financial system.   So they've already been there, done that.   Although Japan's 230% Debt/GDP ratio screams "Danger Will Robinson," they have thusfar been able to largely internally finance what would appear to be a ruinous debt load.  As a result, Japanese interest rates remain "well anchored," if not cratered, similar to their demographics.
 We are not so different here in the US and Europe as it is the path of least resistance for policy  makers who are captured by the Too Big To Prosecute (TBTP)  financial system (h/t Eric Holder and his European counterpart stooges).  QE strategy seeks to (in no particular order): 1) keep Zombie Banks afloat, 2) contain interest rates and inflation "expectations" via full-spectrum Bond market domination (thus also preventing a blowout of the $16+ Trillion US Federal debt financing), 3) stave off deflationary pressures and, 4) to create a "wealth effect" in the economy.   A derivative effect of Fed "largesse" is also downward pressure on the USD, although not consistently realized in today's global "Race to the Bottom" currency environment, which curiously mimics current US Federal Education policy.  But I digress.
The upshot of all this is that the JCB has gone about raising asset prices in the short term by overtly manipulating its currency (there's that term again – I thought only the Chinese would do such a dastardly thing).  At some point, it's likely that there will be a reaction to the Japanese action.  None of us know when, or in exactly what form it will materialize, but it could be Sooner Than You Think.