The S&P 500 has moved above 2200. This is important. Why? Because I like to think of the S&P 500 in 50 point increments. Other increments are used for other indexes, like 500 points on the Dow Jones Industrial Average.
The prior move up a level was to 2150 and that happened in July. Then it was tested in August. September saw it tested and broken before recovering. October saw another break and close below 2150 at month's end.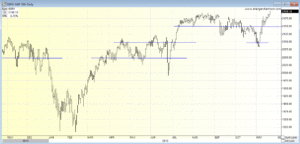 November saw a break of 2100 for three days. So support had fallen all the way to 2050. The run from the November 4th low has been impressive no doubt and we weighed in with positive commentary on November 8th in the morning that the action on November 7th marked a meaningful low.
Of course several took me to task for this call but once again technical analysis trumps sticking your index finger to the wind. Price always leads the news.
If we look at 2100 like we did with 2150, then we can see that is broke above 2100 in April but failed by month's end. 2100 was retaken in late May. June saw a move back above 2100 before another selloff and finally in July it busted through to the upside.
So…based on history the easy money is in and we expected some back and forth across 2200. However, given this rally has legs the S&P 500 has about a 25% chance of continuing to 2250. For now we remain with our viewpoint that long is not wrong.
If you enjoy the content at iBankCoin, please follow us on Twitter