I do not care if you are Warren Buffet or a value guy, not understanding the intraday action GUARANTEES crappy executions that may last a day, a week or month. Today is a great example.
We had a gap down open. By 10:20 $SPY was under support. Then by 11:00 we broke the one hour low. That was all you needed to know about today. Game over.
A gap down that does not start to move higher by 10:30/11 is doomed. That said each time we hit the one hour low $SPY, $189.09, has failed. The machines sold. So the best we can hope for is getting back to that level.  A minor miracle would be support at $190.12.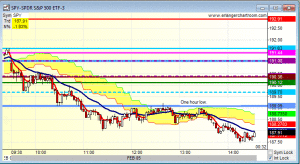 Worst case we could break $187.50 again. It has been tested on 10 different days since 1/15.
Looking ahead, next week sees China closed for Chinese New Year. Economic data is light with only Retail Sales on Friday, February 11th. Federal Reserve Chairman Janet "The Grandmonster" Yellen will testify before the House and Senate on Wednesday and Thursday. There are a smattering other Federal Reserve speakers as well.
Key for me will be the next short interest data due out on Wednesday after the close as the data runs from 1/12-1/26.  When shorts get too piggy and they will, then we can rally like we did in March of 2009.
If you enjoy the content at iBankCoin, please follow us on Twitter