At Erlanger Research, we use a really simple indicator to determine the bias. Bias tells us whether we want to be long or short. If the bias is positive, then we do not short. If the bias is negative, then we do not buy.
It is really that simple. Unfortunately, humans have a widget in the back of their head telling to them to try and catch a bottom or top. There is no need to do that if you have the power of the Displaced Moving Average (DMA) Channel we use to set the bias. The DMA Channel can be found in our software as well as on Bloomberg and NinjaTrader.
In the case of GTAT, the stock has not been able to move above its monthly DMA Channel. We are a buyer when we close the month above the DMA Channel and a seller when we close the month below the DMA Channel.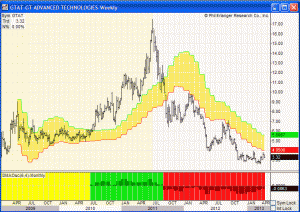 We have a buy signal that made 67.56% and the current sell has made 66.70% on the short side for a combined return of 134.26% . The software for this chart can be found at www.erlangerchartroom.com and www.goodmorningwallst.com. We offer both individual and institutional version as well as real time via eSignal and Bloomberg.
There is one big caveat to the DMA Monthly Channel. It does not do a good job on stocks with low beta. Betas above 1 it works fine. Ultimately, bias needs to be used in conjunction with setup and trigger indicators. Our setup indicators include short interest, options and seasonal trends. Triggers are technical indicators that help on the timing of the trade. The use of bias, setups and triggers is a must for any trader.
If you enjoy the content at iBankCoin, please follow us on Twitter