There's nothing unusual about this, just a former convicted criminal from Japan trying to jimmy his way into the world of fine dining by way of wagyu beef.
Takafumi Horie served 21 months in prison for securities fraud after manipulating the share price of his companies subsidiary, and now he's going to manipulate the price of your steaks — because he wants to hack the world.
"I'm always thinking how to hack the world," Horie said. "With Wagyu, I'll make my name known to the world."
Japanese beef has been soaring in demand in recent years, thanks to the special sort of fatty meat their cattle produces. Their black, brown, shorthorn and polled breeds of cattle, after viciously killed, make very soft and delicious meat, juicy with a rich varietal of blood and marbling that has a much higher percentage of non-artery clogging unsaturated fat, which some people propose is entirely healthy for the human species to consume is large quantities, even heavily salted with minerals that jack up blood pressure levels that every so often, and quietly, kill people dead via stroke.
It's the world's most expensive beef, fetching for $180 per steak, and the rich want to eat it, over and over again.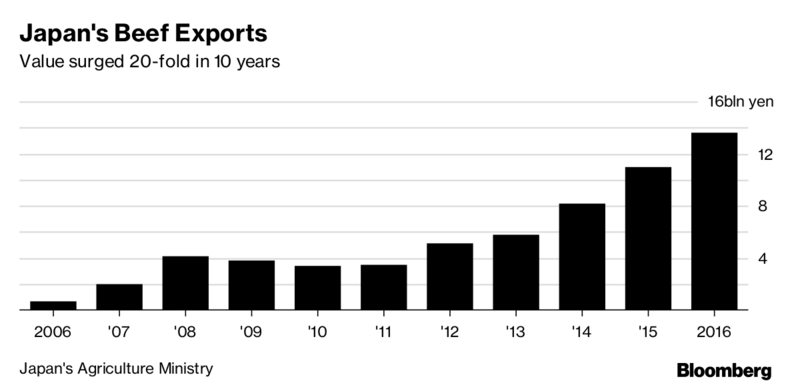 "While Wagyu is as scarce as good Burgundy, it has been sold cheaply by JA," said Horie, referring to Japan Agricultural Cooperatives, the nation's largest farmers' group. "I'm confident that the beef can be sold at much higher prices in global markets."
Indeed.
Horie has introduced a membership program, which has resulted in scores of affluent Japanese businessmen and women clamoring to get a piece of the action. Memberships have skyrocketed from just 300 to over 1,000 carnivores since September. For those of you interested in tasting his chops, there will be tastings in San Francisco, Paris and New York later on this year. Be sure to reserve your private jet and attend these once in a lifetime events.
The former convicted criminal explains his rationale for naming his company after what's traditionally known as a crime syndicate.
"By mafia we mean a syndicate of ex-IT entrepreneurs," said Hamada, 40, former publisher of an online movie magazine.

"Our project is to deliver Wagyu produced by selected farmers directly to global buyers, bypassing middlemen and without advertising. We find customers via social media and pop-up" events.
"Our cows have maintained a pure lineage over the past 2,000 years because they are kept in an isolated area surrounded by mountains," Tanaka said in an interview in Tokyo. "Their purity is the biggest difference from other types of Wagyu." His 40-month cow was selected as the champion in the Wagyu contest of Hyogo prerefecture last year, and sold for 200,000 yen a kilogram.
Their cows are simply better. Case closed.
"It's incredible. There is nothing like this," said American percussionist Lenny Castro after tasting Tanaka's beef at a Wagyumafia restaurant opening in September. "It's totally different from other beef."
Such deliciousness is surely to fetch larger sums of dollars for Horie.
Comments »