I was outside playing in the street when the rally happened.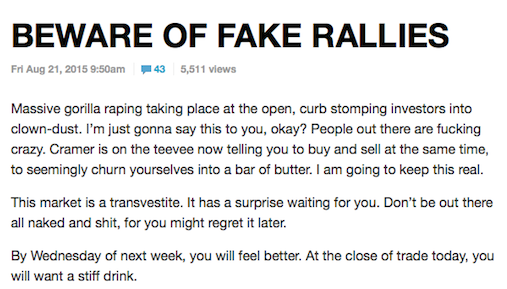 Instead of following through with my plan, I turned into a fucking vampire, called myself a count, and affixed blood sucking bats to the iBankCoin logo.
.
.
.
I'm miserable, dejected even. I had no shorts, only a few gold positions that have become the very essence of moronic design. All that aside, I was supposed to partake in the rally. I set up for it. I plotted and schemed and wrung my hands in a maniacal fashion when thinking of the deals I would steal. Instead, I got this.
It's all well and good, lads. "The Fly" lives to fight hard another day. I have 45% long exposure and made some coin today. But it could've been so much better, sublime even. On days like this, weeks like the previous two, I question whether or not I am fit to manage money. The fear of loss has overshadowed the greed of success. I've become so jaded to everything that I see and hear, often times I am paralyzed from executing on plans that I design.
The market took the opposite path of prevailing wisdom, meant to hurt and humiliate the maximum amount of traders. If this logic is to hold true, tomorrow we will dive, inexplicably, by 500 points.
Truth be told, this mood will pass. It always does. It won't be before long when I am blasting Rick Ross gangster music again, while slapping all of you with hot slices of pizza. Until then, I brood while listening to this, on repeat.