Seven years ago a group of people set out to change the financial landscape. They cobbled together a website that would mock and prey upon the readers of TheStreet.com, hoping to decapitate its leader and shame its employees into abject misery and disgrace.
The legend of "The Fly" was born, alongside The Woodshedder, Danny, VINCENZO ILLUMINATI and soon to follow Ragin Cajun.
In the early days of iBankCoin, we had great fun. We were much younger then and the markets were on the precipice of complete and utter disaster. Looking back, I never thought this site would become such an integral part of my life–sacrificing so much for so little. Then again, Le Fly's bloodlines dates back 30,000 years to the Asian steppes, a rough and emotional people who'd rather eat their household pets than ask a neighbor for a slice of bread.
Trust me when I tell you, this is my life's work, one way or another. It will end in spectacular success or misery. There isn't a middle ground, for mediocrity is for plebs.
Shortly after our launch, I brought on Jakegint master of the gold trade.  Other notable bloggers who have come and gone include The Chart Addict, Gio, COACH COFFEE, RHINO, Henry Fool, Alphadawg, Kong, The Devil, Chuck Bennett, Green Writer, JASON TREU, Mr. Bilderberg, Rag, and of course Scott Bleier.
Over the past 4 years, the site has truly entered a renaissance, with the content provided by Ragin Cajun, Caine Thaler, Raul and The Option Addict. Our services have grown with our legions of followers. The site is entirely self-funded and profitable, generally spitting at all of the other finance sites who find themselves enslaved by Venture Capital masters.
Señor Tropicana works tirelessly to destroy the human race, via Orbital Space Cannon (OSC) and finds the Venture Capital community to be of a most outrageous and abhorrent group of individuals. Their headquarters have been entered into the OSC matrix and shall be vaporized when BETA trials begin.
Here are some of the site's design changes over the years and memorable videos.
This is the video that introduced iBankCoin.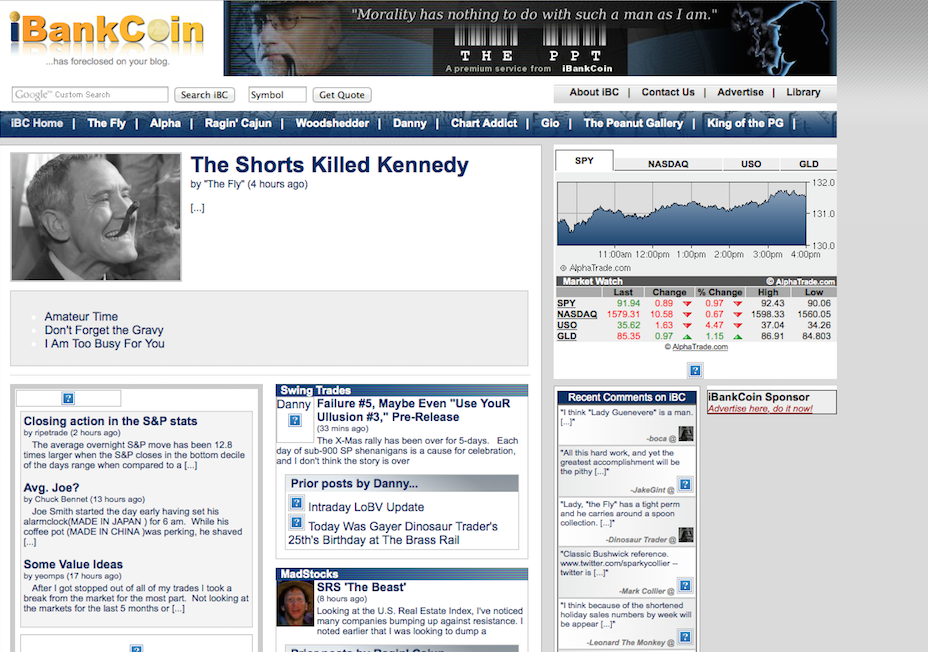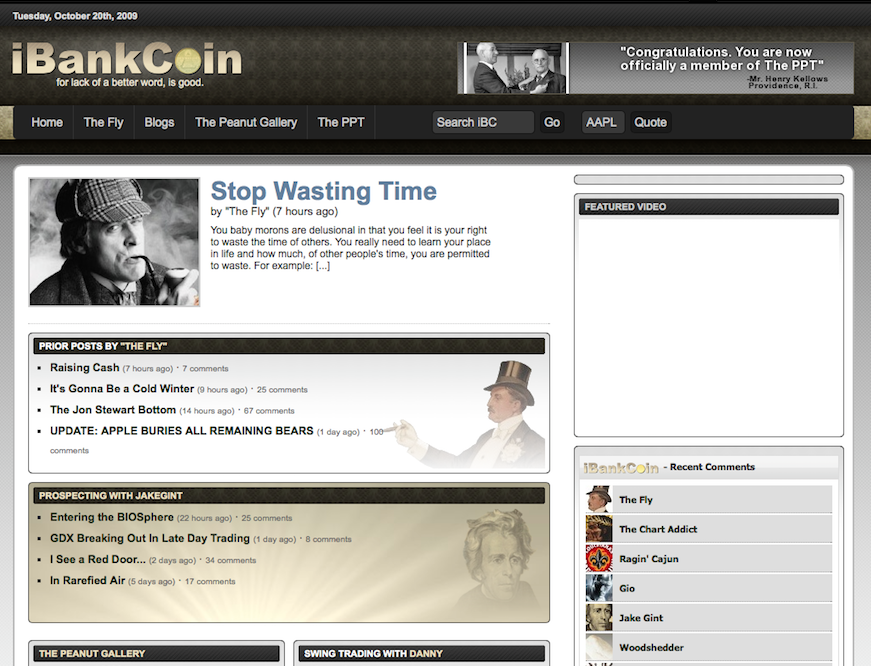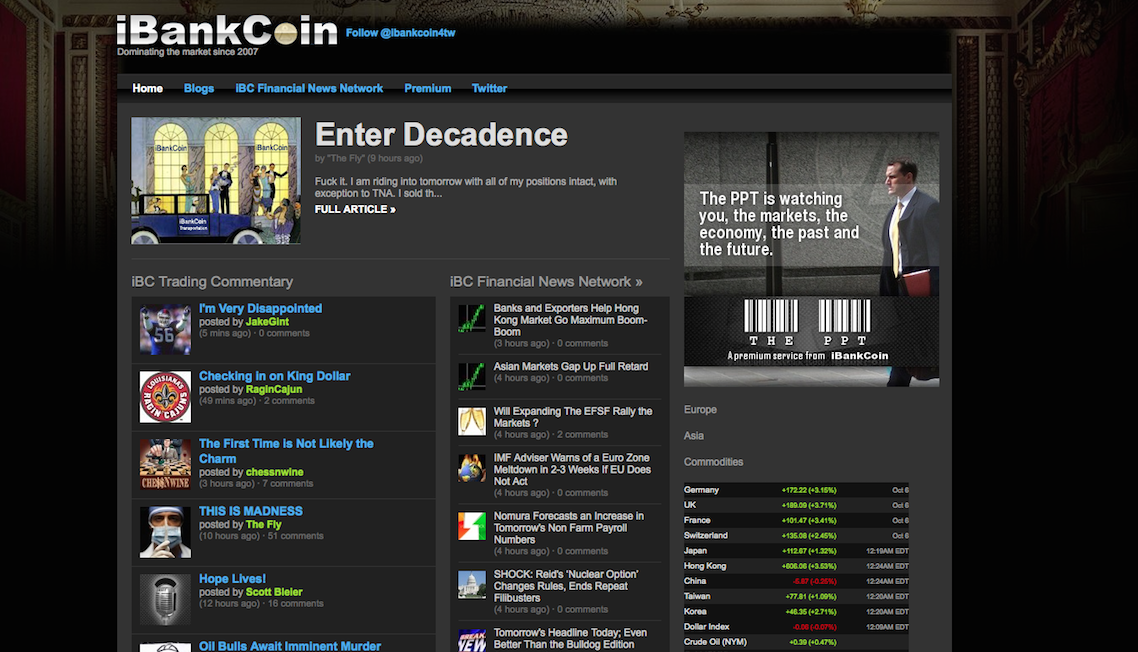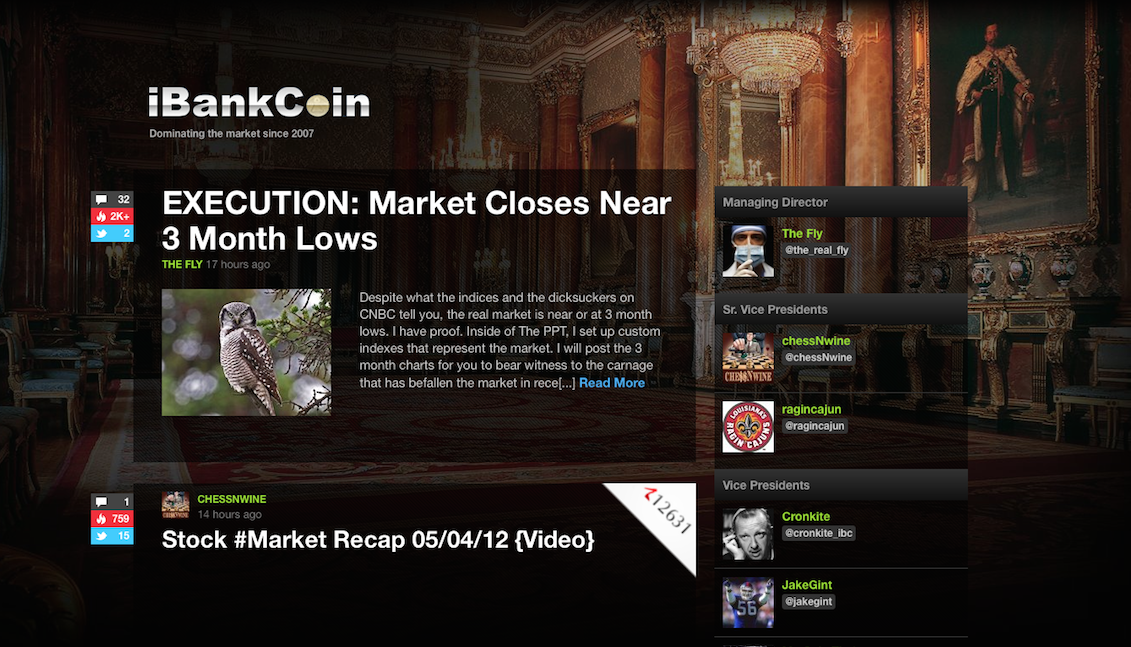 Comments »