Back in 1998, my book of business was a smoldering mess, reeling from the 1997 debacle. I had been fired from my previous firm, supplanted from the office I was placed in at my new firm for lack of production, and generally hating life being the sole source of income for my wife and newborn son. In the summer of 1998 the Russian crisis hit, aka "Asian contagion", and it wreaked havoc on equity markets, sending the Nazzy down a cool 30%+ in a matter of 8 weeks.
Whatever clients I had left were decimated, reduced to rubble, thanks to the ruble. At that point in time, I was looking to switch careers. I never really made any money, so I had nothing to lose and nothing to gain by staying.
After failing to secure "a real job", I had no choice but to get to work.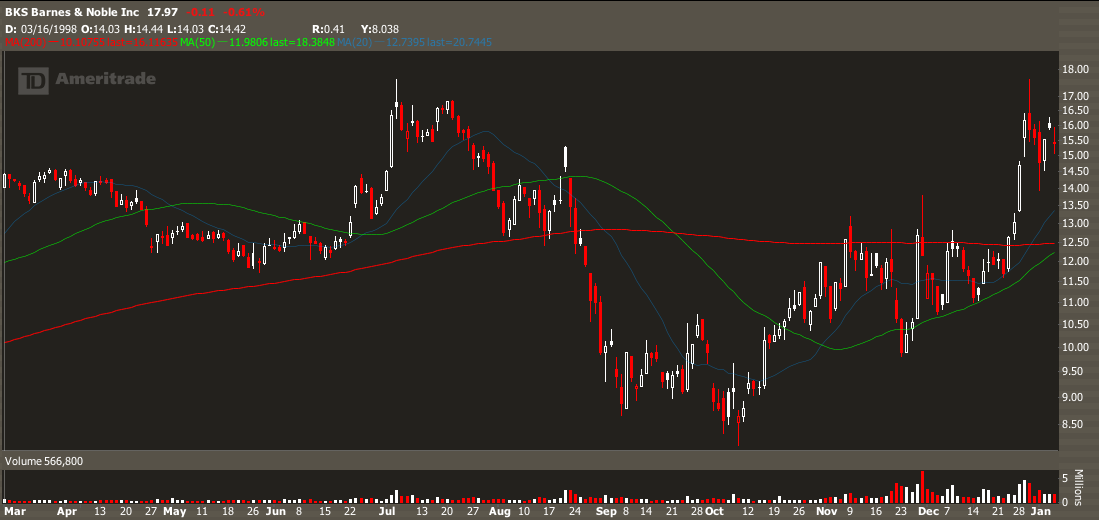 Barnes and Noble's was one of the stocks I was buying, getting smoked daily like a pack of Benson and Hedges. Unlike today, BKS was a hot stock. They were supposed to take on AMZN for online bookstore dominance. They even had a deal with MSFT that led people to believe they'd beat AMZN's face in.
WRONG.
But the point is, it was a momo stock, lifted more on sentiment than fundamentals. As you can see, when the animal spirits left Wall, the stock lost its floor and crashed 50% in a few months.
Look at today's momo stocks. Even though the Nazzy is only off 6% from the highs, there are stocks down 30-40% on no news, simply a side effect of cancer infecting the minds of speculators. Clearly, this is overdone. Nothing goes down in a line. Nothing goes up in a line. Nothing lasts forever, except death.
Based on the current numbers, if the Nazzy fell by another 25% (LOL!), FEYE would be down around 80% from the top, sitting at around $15. C'mon son.
Just like 1998, this market isn't going down on fundies. It's going down because of fear. When the fear dissipates (look at that chart), we are going to whipsaw around faster than you can shoot your margin clerks in the head.
I built my business in 1998, went from supreme piker to #3 producer at the firm in less than a year. It was a crazy lifestyle change for me, as I was literally sitting at 10% equity at the time we bottomed. Accounts were teetering on zero equity, long internet stocks into the teeth of insanity. Everyone around me was in cash and warned me to stop buying stocks. Stubbornly, I kept calling people, telling them to "buy the blood and drink it like a fucking Vampire in a blood bank."
When it bottomed, my money line went apeshit to the upside. I even got my office back. Clients sent me their friends, mothers and grandmothers to manage–all setting up for another grande fiasco in 2000. But that's another story.