Here is an article on VLCC rates from late November.
But with the Brent oil price now 40 percent lower than July, there could be more VLCC fixtures as refiners bought oil for storage, the Singapore broker said.

VLCC rates for the benchmark route from the Middle East to Japan climbed to almost W64.50 on Thursday, up from just under W51 a week ago, the highest since Feb. 18. Rates are the equivalent of nearly $60,500 per day.
Day rates were about $60,000 then.
Now they're at 5 year highs, over $81,500 per day.
Why is this happening?
Supply is tight, real tight, as is always the case in December. As the Dry Bulk Index implodes, the oil tanker rates explode. Perhaps it has something to do with plunging Brent prices are producers storing crude in these tankers. Longer term, if US production is coming down, due to high cost producers in the shale, it makes 100% perfect sense to believe that we will, once again, begin to import crude from overseas.
Saudi Arabia wins. Yes?
Here are 3 mo charts of the Dirty Tanker Index (unrefined crude) and the Clean Tanker Index (refined product)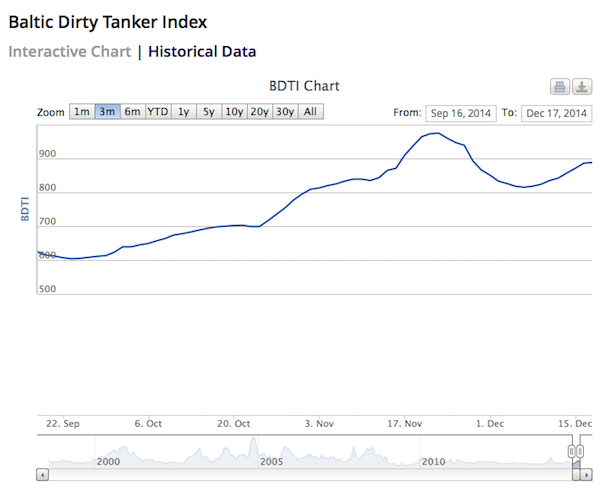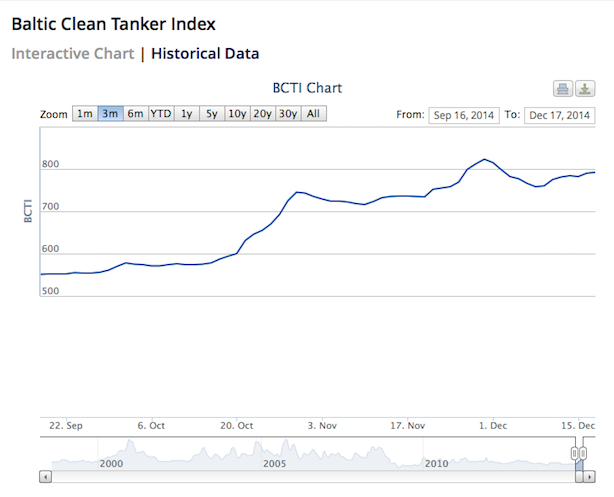 The reason why FRO has struggled in recent years is two fold.
1. Debt burden.
2. Lack of volume due to the surge in US oil production.
Well, they just restructured more than $20 million in debt and I don't think we need to worry about domestic oil production any longer. With oil coming in again, I sold out of BALT for a staggering 27% loss and rolled half the proceeds into FRO. I will deploy the rest of those proceeds on a dip.
In other words, for the New Year to come, I am discarding the losers and starting with fresh ideas.