2008 was the year of the asshat.
There were so many dicks in 2008, one would think the world was one big dick factory, incidentally, chock-ful of asshats.
There was the likes of Dick Bove, and his insane "buy of a lifetime" call on C, above $20. Let's not forget he emphatically said LEH would "make it," just prior to its demise. There was the CEO of Profunds, Mike Sapir, and his fucking lunatic set of 200% inverse/upside IRON LOTUS etf's, which are kindly designed so that EVERYONE loses.
Fucking asshats!
Let's not forget Paulson, Kass, Cramer of TSCM, Yang of YHOO, "Dr. Eli Harari" of SNDK, Feder of TTWO, Bernie Madoff, Chris Cox, Spitzer, Fuld of LEH, Ken "hands" Fisher etc. No kidding, I could go on and on.
However, in my humble, yet potent opinion, only one man deserves the Asshat of the Year Award for 2008. Without further adieu, let me introduce: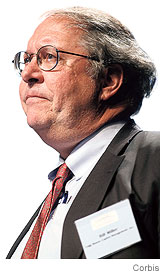 Bill Miller, Retarded Money Manager, Legg Mason
At one time Bill was a good investor. Fuck all of the accolades that erroneously labeled him a "great investor." For the love of small microchips and green trees, the market was going up, when he was sucking its dick. However, in 2008, the stock Gods gave Bill a steel pipe to the mouth, taxing his Legg Mason flagship fund by more than 56%, according to the most recent data.
Hell, Bill's whole family of funds is down in the deep 30-40% range, all because he (Bill) is a large sucker of bank cock, not to be confused with the cesspool in Thailand.
His portfolio is littered with all sorts of stupid shit, from AMZN to C. However, Bill nailed down the Asshat Award for one reason and one reason only: He fucking doubled down on his Freddie Mac position, just prior to it being seized by the government.
Let me clarify. If you recall, at the time Bill "averaged down" in FRE, it was almost a foregone conclusion that the Gov't was going to takeover FNM/FRE, in order to 'save the world' part 20. For the love of nuclear bombs and hydrogen fuel, some of the "smart managers" stepped in on FRE bonds or preferred. But Bill, in his infinite asshattishness, stepped in and bought more lowly common stock.
Asshat!
Despite being fired by pension funds and crushing the 401k plans of millions, Legg Mason is still backing Bill. They must "enjoy" his investment performance, in some sick, distorted, mentally ill manner.
Even though Bill is an extreme asshat, with very little investment skill, CNBC was proud to announce that he called another bottom in the banks, just a few weeks ago.
Prepare for another "legg lower," if I may be so bold. Get it? HAR-HAR-HAR.
Bottom line: If I am correct about Bill Miller, which I most certainly am, LM is in for a very arduous 2009.
Nonetheless, congrats to Bill Miller for winning the Asshat of the Year Award for 2008; he certainly earned it!