The regional banking index was down 16% earlier this morning and is now off by "just 11%." At the open of trade, I blew out of my UVIX and SQQQ positions, alongside my longs, for a net daily PNL of +1.81%
AMERICA WILL NEED TO BACKSTOP THEM ALL pic.twitter.com/ZZ5zEEXZ56

— The_Real_Fly (@The_Real_Fly) March 13, 2023
Oh nothing, just interbank liquidity totally frozen pic.twitter.com/YsVcRsmMjM

— zerohedge (@zerohedge) March 13, 2023
If you were to tell me the banking system would collapse at the same time tech stocks ran higher — I'd say you're fucking crazy. But that's exactly what we're seeing today.
The good news — yields are crashing lower.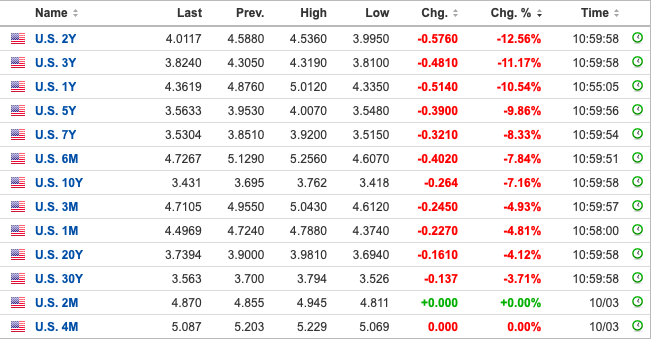 WE ARE SUPPOSED TO BE CRASHING LOWER NOW — but we aren't. And it's not just regionals getting hit.
SCHW -12%
USB -9%
C -5%
AIG -4.5%
CS -5.3%
It's also worth noting we are seeing a tremendous run in gold, silver and cryptos. It has always been my belief that BTC-ETH-GLD-SLV would do very well under a bank panic or dollar panic scenario and that is exactly what we are seeing today — with BTC and ETH +5-8% and gold +2.2% and silver +6%.
To be continued.
If you enjoy the content at iBankCoin, please follow us on Twitter