All things being equal, what incentive do people have to remain at their regional bank? If the FDIC is gonna cover it all, might as well play it safe and transfer to JPM — no?
It appears an olde fashioned fucking bank run is underway and there is nothing the Federal Government can do to stop it.
We went from +3% in the Russell to down 0.5%. But more extremely, we are seeing a sundry of weak regional CRASH THRU THE FUCKING FLOORBOARDS. On top of that, banks are generally weak and the contagion seems to be spreading IN SPITE OF Biden's great big fucking bailout plan.
BEHOLD THE PAGEANTRY.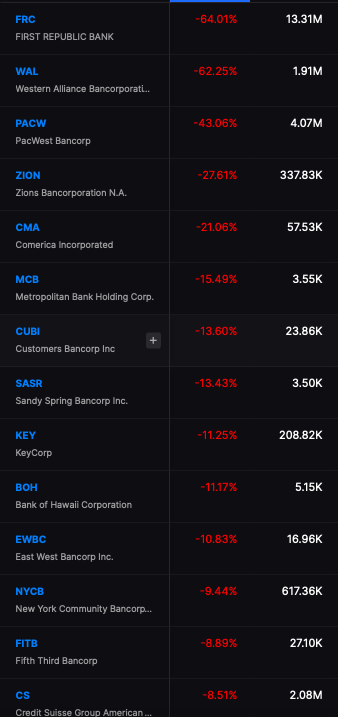 Aside from that, SBNY traded at $70 on Friday is NOW ZERO today. Let me repeat that so you can fucking grasp it — SBNY IS A ZERO.
We have crisis underway and the VIX is responding in kind, sharply higher. It appears the new FDIC scheme to back all deposits will soon be put to the test as HUNDREDS OF BILLIONS MORE in deposits are called into question thanks to the collapse of FRC, PACW, ZION, WAL, and CMA. Let's also not forget SCHW is barreling lower too. They have $7.3 TRILLION in assets.
The one silver lining in all this is bonds are SOARING. Ergo, the issue the banks have with losses are mitigated somewhere with the 10yr -22bps and losses well into -30bps all the way down the yield curve.
WTI is sharply lower -4.7% and Europe is down 2.5%.
On a somewhat positive note, President Xi is expected to meet with Putin next week and then later on Zelensky. Are we going to see a Chinese brokered peace agreement?
If you enjoy the content at iBankCoin, please follow us on Twitter