My stratagem for the past 2+ months, ever since I righted my ship, was to get long stocks only near session highs and to focus on larger capped, and then selling every single one of them before 10am. Also, in recent weeks, I almost always took a hedge into the close. The reasoning it simple: survive the hard tapes in order to thrive during the really good ones.
But with stocks down sharply today, the Dow off by nearly 600, my strategy will change and instead of buying strong stocks — I will buy the weakest ones. But I'm not buying trash. I will be buying great companies down big.
But before I do that there are several things of note. The first being high yield bonds under pressure.

It's probably nothing. In case it's something, I want to be sure I am not buying dips at the onset of a credit crisis.
This recent rout has coincided nicely for Biden, who desperate needed to see inflation moderate. We have moderation and yields have been sinking back into a deflationary vortex, with the 10yr down to 1.44%. Some people say, at some point, the 10yr will be negative yielding. Perhaps. But we'll have time to respond to it when the new credit crisis emerges. For now, I am only interested in the next 3 days.
Important to note: the last oversold cycle in Stocklabs was on 9/28. Here is the hourly returns during those days. Clearly you can see stocks bounced from 1-3pm. Be careful of oversold bounces that dive back into murderholes.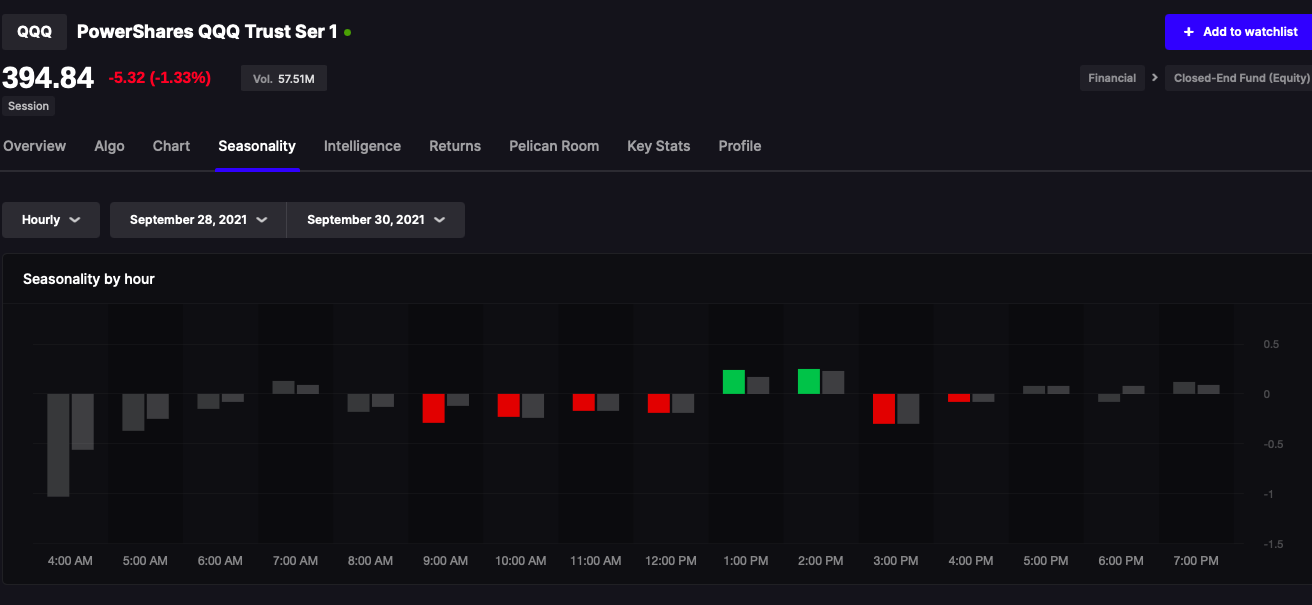 I am not sure if I want to hedge with an inverse ETF today — because there is a chance markets open higher and I can lose 10% long one of those fuckers. But on the other hand, the market might be just getting started on the downside, the onset of something dreadful.
We're closing out November a real bowser — down 4% for the IWM and down more than 8% for tech and 13% for healthcare. If you made more than 0% this month, tap yourselves on the shoulder for a job well done.
My only question into the 3pm hour is how much exposure do I want into tomorrow? I am thinking 25%, with a 5% hedge. That won't yield a very high return, however. Or, I might go 10% upside ETF and the rest cash.
We'll see.
If you enjoy the content at iBankCoin, please follow us on Twitter