It's a tall tall wall and only men of property sleep well knowing that their are beasts on the other side of it trying to step on your freshly placed sod. Jobless claims soared past 3 million and yet stocks are up. Why?
BECAUSE THEY CAN.
Think of the market as a meat grinder. It's only interested in making chopped meat out of investors, leaving no steak behind. Last week the bulls were ground up and now the bears. Everyone gets a turn and no one leaves unscathed.
WTI is down 4%, yet the Dow is +400. I do not think for a second the crisis has ended, but I do think there are too many people short, who will now learn what it feels like to lose their minds — as stocks swim higher in spite of a very obvious sharp economic downturn.
It's worth noting, the $2t bailout aka stimulus package excludes those RICH FOLK making more than $99k per annum. It's also worth noting, govt doesn't give a shit about you and checks will be in the mail for poor people in THREE WEEKS. By then I expect cannibailism to take hold inside of your city square.
I am long mortgage stocks and REITs. Have a looksy at the sector.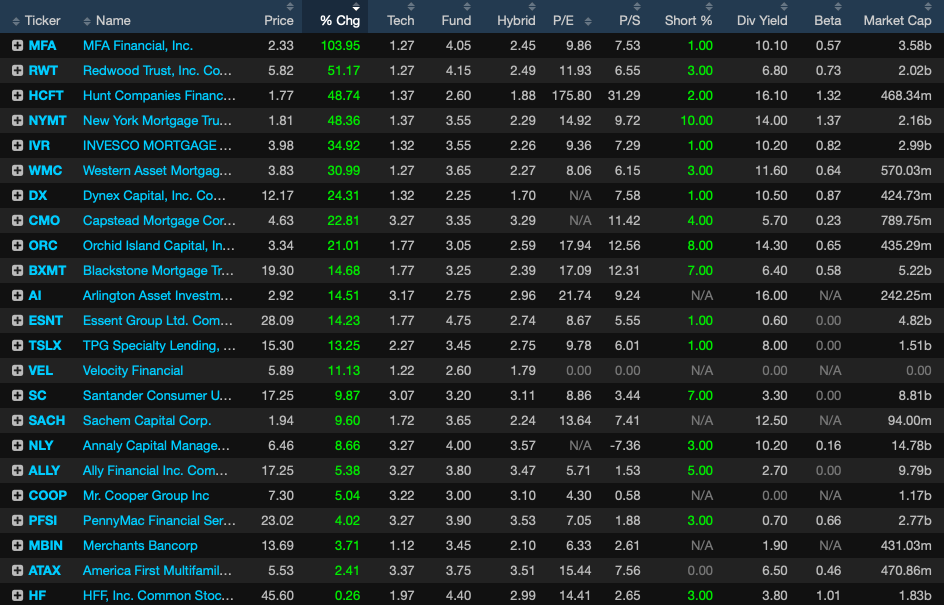 Wall street up huge on main street misery! Record unemployment! Huge!! Best Ever! pic.twitter.com/MXQfVrfbY4

— Joe Roxbury (@9toejoe) March 26, 2020
If you enjoy the content at iBankCoin, please follow us on Twitter