We all get lucky on trades from time to time. Yesterday was one of those days for me, getting "lucky" on a 55% jump in STMP off good earnings and resumption of contract with USPS. But what separates the men from the small girls is what to do with said gift.
Does one accept it and move on or stay for more?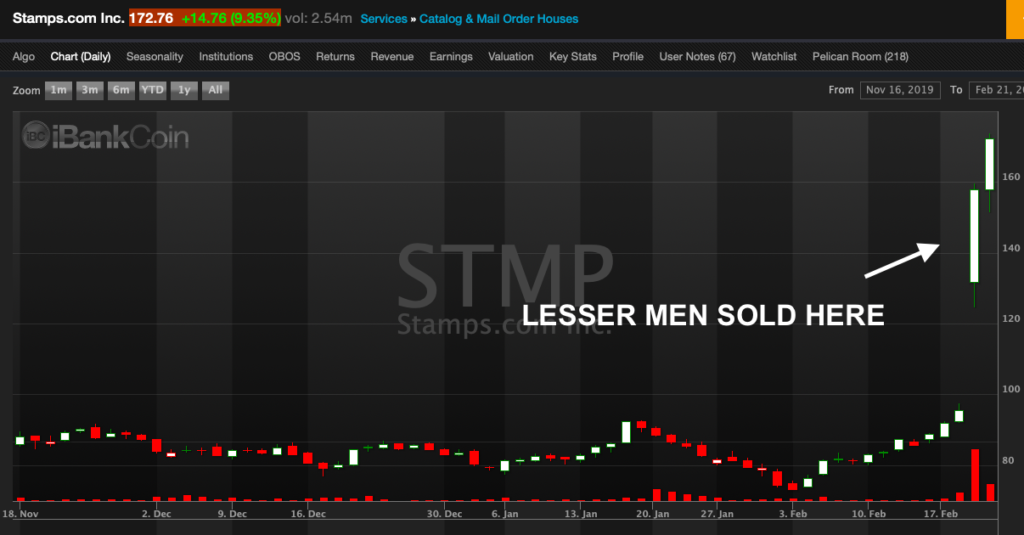 It depends on the context.
See pal, STMP was $280 before things went south for them, losing the contract with the USPS — being relegated to a shell of a company. Now with the contract back in place, I see no reason to believe the stock cannot power to new highs. This conviction, this poise under fire, is what makes Le Fly a world class Master Ace Trader (M.A.T.).
While many of my minions inside of the Pelican Room in Exodus sold and gleefully skipped away with profits to eat a box of chocolates of whatever the hell they do in their spare time, Le Fly knuckled down and made the hard trade: nothing.
Sure, it's easy to take an 80% win over a 2 day holding period. Let's see you carry that same energy after it jumps and you're left with the decision to hold on a day when stocks are down over 1%.
When will I sell?
Maybe over $200.
The point here is to brag and do it often and make it known to the world Le Fly is not to be trifled with. I hope I made this point abundantly clear.
If you enjoy the content at iBankCoin, please follow us on Twitter