We have such a wonderful juxtaposition between the wealthy and the broke-ass bitch-ass government. This relationship leads to us to one road, heavy taxation of the rich in order to subsidize the burdens of government for the purposes of grift and retention of power. How else does one explain how Elizabeth Warren is a presidential candidate? Eventually, and this goes without saying, socialism will grip its tiny wiry hands around America's neck — out of necessity.
Mathematically, there is zero chance we extricate ourselves from the $23 trillion debt hole, not including the trillions more in entitlements. The idea that rates could go higher in our lifetime is a laughable idea — one that should be met harshly with leather whips to the back and neck. Do not ever suggest rates are going up in my presence.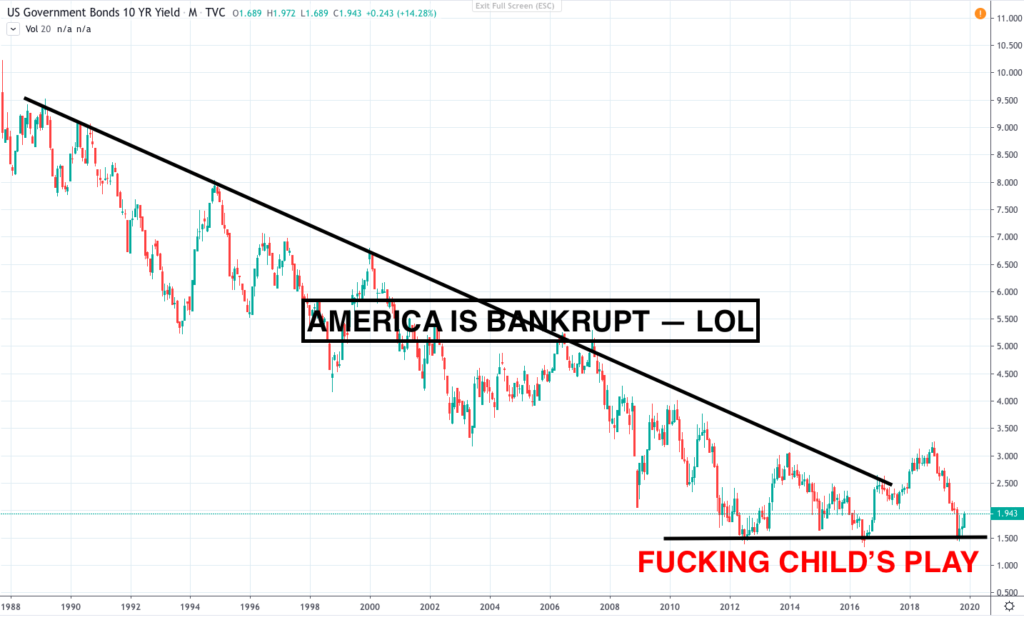 Rates "bottomed" in an interesting spot, one that has marked the bottom several times the past decade. But it won't last — because America is fucking flat broke.
Bear in mind, this doesn't mean stocks go lower. As a matter of fact, stocks will continue to go higher — but the tax burden will too. Eventually there will be a major tax initiative when enough normies hate billionaires enough to seize their shit. Until then, we play the game of cat and mouse — pretending we're not barreling down this path — celebrating "capitalism" in all of its grande fairness.
If you enjoy the content at iBankCoin, please follow us on Twitter