Driving in North Carolina is a lot different than up north. The people here tend to be a lot more aggressive, which probably correlates to IQ. They are overly aggressive in situations that do not call for it, such as letting other cars merge into double lanes turning into one. We've all been there and it's basic decency to allow another fellow in ahead of you in order to avoid getting smashed up against some wall or dropped into a crevasse.
On the issue of infrastructure, everything is new here, but planning isn't too smart. On the side of each narrow road is a V shaped crevasse. If you fall into said crevasse, unfortunately, you will die.
Last night I visited the beach town of Wrightsville, which had a nice beach — but woefully under-developed in comparison to the fine beaches in NJ. Then I traveled to Wilmington,NC — a denizen of ill repute. It was a very lively scene, with tap dancers in the fucking streets, live bands, and scores of homeless people soliciting for money. As I left the old southern city, I spied a man pulled over on the side of the highway taking a shit. That's right, a shit.
As I traveled in the right lane, I spied a pissed off car to my left pull an unbelievable maneuver on the car in front of him, obviously because he wasn't going fast enough. I think we were traveling at around 80mph and he wanted to go 100mph. So he jumped in my lane and quickly merged back in front of the car that was formerly in front of him and then slammed on the fucking brakes — slowing to about 30mph, just to fuck with him. This is the sort of stuff that can only be scene south of the Mason Dixon.
All in all, I find my time here to be fine. But the people are without question reprehensible. I now know why General Sherman burned the south down.
On the matter of fish, Exodus is overbought. This condition, in the past, has led to fanciful gains over the next 10 trading days.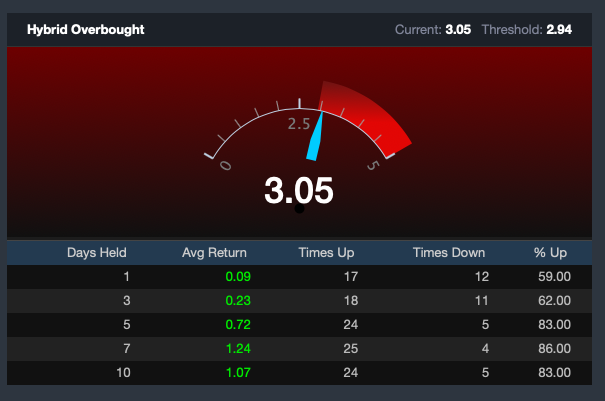 Stay long and avoid the temptation to time tops.
If you enjoy the content at iBankCoin, please follow us on Twitter