Markets did great — yada, yada, yada. I bought a bunch of shit that is doing to pop the fuck off tomorrow.
Now let's talk about something really important.
Exodus 2.0, presently in late stages of development.
You're familiar with our overbought and oversold algos right? If AAPL hits a score of 1.35 it has a 74% chance of going higher by 1.4% over the next 10 days. Pretty neat, but how about if I could show you this?
Apple has a present technical score of 3.07. Dating back to 1984, Apple has gone up 53% of the time from this score. Also, since everything is streaming in real time, so are the percentages of win. You can apply this intelligence to new portfolio functionality to demonstrate what Exodus believes your portfolio will do over the next 1-10 days.
Below is a rudimentary snippet of Exodus 2.0 RT data for AAPL.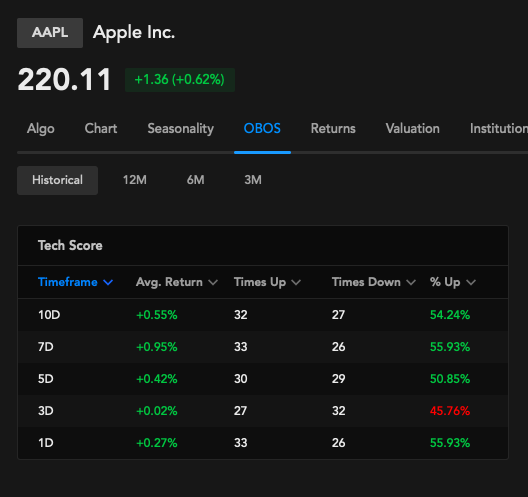 All scores, algorithmic and price, will stream in real time. If markets plunge by 1,000 points over a 5 min time frame, we will now be able to pick up on possible mean reversion trades in RT. Also, our data set is no longer constricted to the lifetime of the software, but decades. There's gonna be a lot of new upgrades and features, all which will make you walk around with a fully erect penis for weeks at a time. But this dynamic upgrade opens the door for intra-day, RT, algorithmic greatness that will be able to score stocks on an intra-day scale and spit out winning probabilities.
If you enjoy the content at iBankCoin, please follow us on Twitter