I can't recall seeing an IPO rollout disaster like this ever. Just two weeks ago, We Work was fixing to destroying after market band wagon faggots with an egregiously overvalued IPO. For once, it was REJECTED by investment banks, unlike other high priced IPOs that came to market in the past to annihilate retail Joes. IPOs like ETSY, FB, SNAP, ZNGA, FEYE and SHAK, and many many more, have all but destroyed confidence in the IPO process in terms of buying them after they come public. We all now know to make money in new issues requires a holding period of 2-3 years.
Not We Work. Those fuckers pissed someone the fuck off and there valuation has gotten ravaged, from $48 billion to a reported $20 billion. Think about it.
Via Business Insider
WeWork could slash the valuation it seeks as a public company to below $20 billion, or even postpone its IPO, according to the Wall Street Journal.

The proposed cut comes days after the Journal reported the shared office-space company was considering an IPO at about $20 billion – already less than half of the $47 billion private valuation it secured earlier this year.

WeWork has faced growing skepticism about its path to profitability and CEO Adam Neumann.
The net result of this debacle is high valuation stocks in the public market are getting lit up, as people rethink the valuation matrix that should be assigned to money losing lotto tickets. As such, SAAS stocks are down nearly 3%.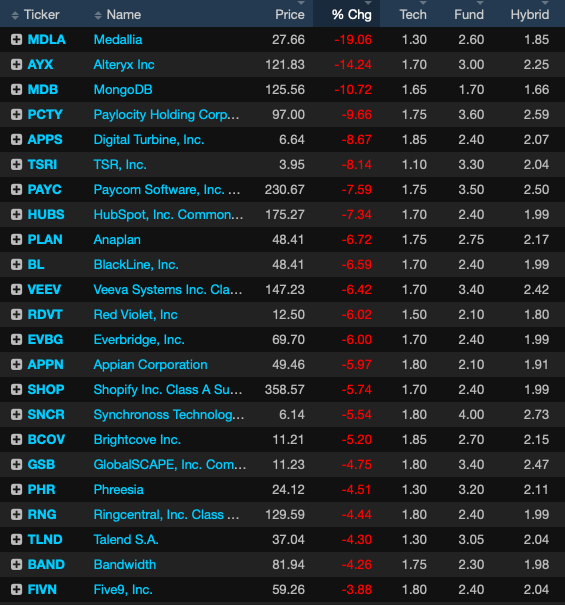 Is this fucking retarded?
Yes.
Will it continue?
Probably, since most high beta stock holders are weak little faggots.
If you enjoy the content at iBankCoin, please follow us on Twitter