A very high IQ quasi- revolution is taking place in HK — and although I think it has CIA written all over it — I'm supportive of any people who demand freedom from their government. They're cutting down facial recognition poles — in defiance of the Orwellian Chinese way of controlling people.
#NewsUpdate: Protestors in #Hongkong were seen tearing down facial recognition poles in the city, as they strive for freedom's and independence for their city from mainland #China. pic.twitter.com/3GiMwMAd92

— Sotiri Dimpinoudis (@sotiridi) August 24, 2019
HIGH IQ RALLIES ENSUE!
Tools of "peaceful" Hong Kong protesters — (1) sticks & metal poles (2) Molotov cocktails (gasoline bottles on fire) (3) bricks/stones (4) grenade launchers! (5) laser beams to blind people (6) special catapults/slingshots to hurl bricks at the police (7) arson/fire:#China pic.twitter.com/jehOxzw4an

— Economics Geopolitics Tech (@EconGeopolTech) August 25, 2019
Without question this is a fucking negative for stocks. My only question is whether this is really happening or more bullshit? Will this revolution be stomped the fuck out — or will it spiral out of control and fuck the Chinese with a bamboo sizes cock?
The Hang Seng is off by 880 now, or 3.5%. Nasdaq futures are only off by 35, after fair value considerations. Oil is down and gold is sharply higher. You're welcome. The 10yr yields are hitting new lows at 1.48% — something to consider when thinking about buying banks. This yield curve business is treacherous for them.
My best bet — markets plunge at the open and I buy with my entire cock. I do not believe we're setting up for a large drop. Trump is too vain to let this slide for too long. Look out for some sort of offsetting stimulus package to antagonize the Chinese. The men inside Exodus are all doing fine now, sipping on large coups of champagne, overseeing their large holdings in gold appreciate with both style and grace.
NOTE: The Yuan is cracking lower again. The dollar is now +5% vs the Yuan over the past year.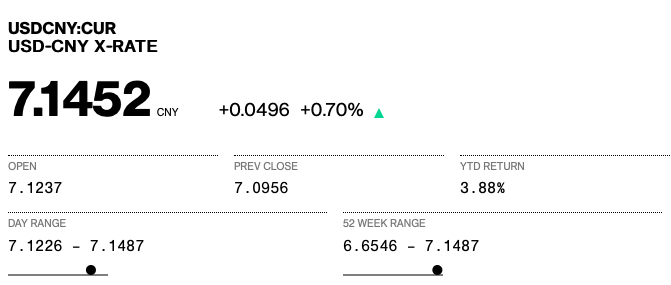 If you enjoy the content at iBankCoin, please follow us on Twitter