Here is the key news from today's Fed minutes.
BBG: ALMOST ALL FED OFFICIALS WANTED TO HALT RUNOFF LATER THIS YEAR
It shouldn't be done, but they want to stop reducing their balance sheet for the express purpose of increasing inflation. That's right — the Fed and their $4 trillion balance sheet will soon cease letting their balance sheet shrink and once again renew QE by rolling over their bond holdings.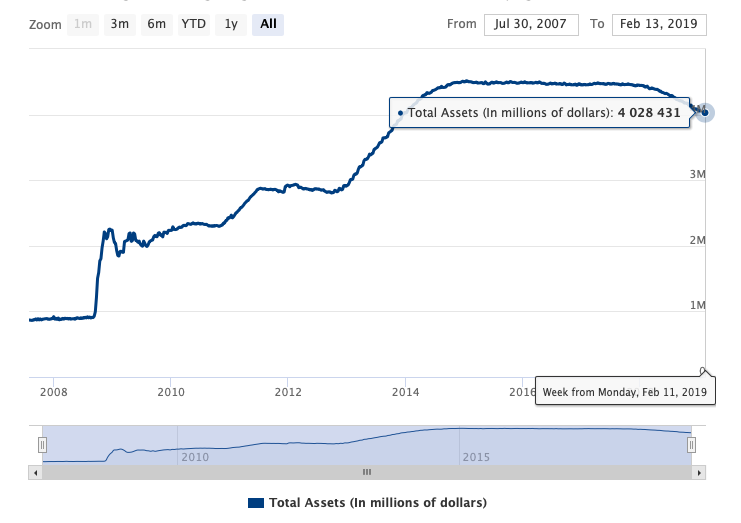 More headlines:
*FED OFFICIALS NOTED SOME DOWNSIDE RISKS HAD INCREASED
*FED OFFICIALS SEE CONTINUED SUSTAINED EXPANSION
*FED OFFICIALS SAY RECENT HOUSEHOLD DATA HAVE BEEN STRONG
*FED OFFICIALS SEE STRONG LABOR MARKET, INFLATION NEAR TARGET
*FED OFFICIALS NOTE BUSINESS INVESTMENT HAD MODERATED
And on inflation, via ZH
many participants commented that upward pressures on inflation appeared to be more muted than they appeared to be last year despite strengthening labor market conditions and rising input costs for some industries.
Stocks should rampage higher — because this is a form of monetary easing. Why the Fed is doing this is obvious — they see weakness in the numbers and want to get ahead of a possible economic slowdown. Ceasing the balance sheet reduction is step 1. Step 2 would be to cut rates.
Gold is weaker, basically because risk is on and people are taking profits. However, this is inherently bullish for gold.
If you enjoy the content at iBankCoin, please follow us on Twitter