DOGE is up 10,000% in 100 days. $1 in DOGE in February is $100 today.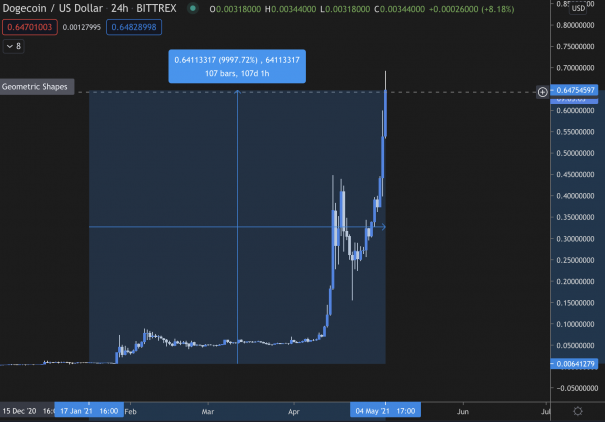 FinTwit has discovered DOGE and they have fallen in love:
Satoshi designed BitCoin this way on purpose. Here's a presentation on how this will play out. cc: @digitsu https://t.co/B1m2YkgT6F

— Coinspeak (@coinspeak_io) May 4, 2021
DOGE is worth a good laugh but when FinTwit accounts start addressing new people in Crypto about the merits of DOGE I find that to be peak lunacy. I responded with exactly the answer to what he doesn't understand and I promise you no one watched the video because that would require effort and an investing timeframe beyond 24 hours.
I just grabbed some doge I'm tired of missing out

— Meek Mill (@MeekMill) May 4, 2021
MeekMill is up 15% on his DOGE from yesterday. Congrats to him. But don't be fooled, this will not last and for every dollar made someone will lose (except the exchanges, they always win and that's why Coinbase lists so many Shitcoins).
This is beginning to resemble a carnival. "Step up and place your bets. Everyone is a winner!"
Look around for a serious project. One that is attempting to solve the problems that matter.
I have gone from being a crypto champion to a crypto curmudgeon. I've seen what's possible and what's at stake and I can't unsee it. At times I wish I could.
If a joke coin like DOGE can threaten the market cap leaders with lower fees and faster transactions what does that say about the merits of BTC and others?
Till this resolves I'll attempt to regain my good humor and remember, every DOGE has it's day.
If you enjoy the content at iBankCoin, please follow us on Twitter