My portfolio lost some ground yesterday; therefore I have been slated for immediate execution via my own hand.  Most of those losses can be attributed to ESV acting like a "homosexual" and MDY being down slightly (OH THE HORROR).  Some additional notes:
As "gay" as ESV was acting, ALJ traded in a most gentlemanly manner.  With the North Koreans thinking of going "full retard" (never go full retard), I can imagine that will impact the energy market vis a vis higher oil prices, which should theoretically help stocks related to energy.  I'm probably oversimplifying this.
There is a ton of buy volume coming into GTN in recent weeks, which I believe is considered "accumulation".  Looking ahead, I do expect some churn in this stock as is gets to the area between 4.8-5.2.  This is a rather small position, so I'm looking to add in places I deem to be conducive to higher prices.
PCL continues to trade in a narrow range.  I'm confident that the next move will be higher (and stand to profit handsomely if so), but am prepared to cut ties with at least some of my position should it break down here.  Oh, as I have been saying for a few days now, the stock goes ex div tomorrow (2/13) at $0.42 per share…so that is a nice little bonus.
As mentioned yesterday, I started a position in RWT, figuring that now was as good of a time as any to get long.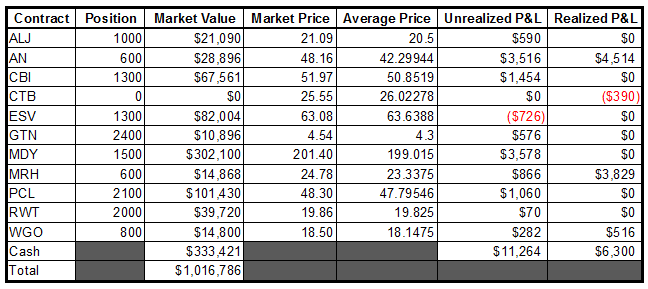 -EM