I would like to speak about the "watch level" prices that I highlight, previously in my watchlist updates and now in the "Top 10" posts that I have been producing in recent weeks.
When I first started on my analysis of volume pockets, one thing that really intrigued me was the ability to gauge the size of a potential move.  In an ideal world, if everything breaks as planned, then a price target can be set at the top of the volume void.  With the extremes of the volume pocket as our guide we can safely approximate the boundaries of the range in which we want to trade, thus we now have a baseline (bottom of the void) and a target (top of the void).
After years of reading, observation and experience I have come to find that the "easy money" (relative term) is made in the middle of a lengthy bull (or bear…but on a much shorter time frame) move.  In other words, your probability for winning improves dramatically when you catch the 'meat' of a move versus trying call a top and/or a bottom.
Once the momentum is underway, my goal is to hitch on to that train and let it take me where it wants to go, which hopefully is in the direction I am speculating.  I have my risk parameters in place, I know that the stock is already moving in the direction that I want it to move in and I have an edge based on the fact that a supply/demand imbalance exists in the form of a lack of historical volume.
Ok, so back to the idea of catching the bulk of the move and how that relates to my "watch prices".  I am interested in catching 70% of the move through the volume pocket.  This means that I place a 15% buffer on the bottom of the volume pocket and a 15% buffer on the top of the pocket.
With the remaining 70% I set up my "watch prices".  Ideally, I want to build a position throughout the 70%, nibbling on bits here and there, having a full boat by the time we reach the top buffer level.  I break down the 70% region into 4 equally spaced buy zones.  This is what the "watch prices" signify.  Keep in mind that this doesn't automatically mean that I'm going to buy the stock once these prices are hit.  In theory, one could do that and it probably would work just fine, but after using this method for a bit, I feel like I can control risk better through being more subjective with where I start a position and/or add shares.
The essence of this is (in theory) to build a position throughout the void.
As for my holdings: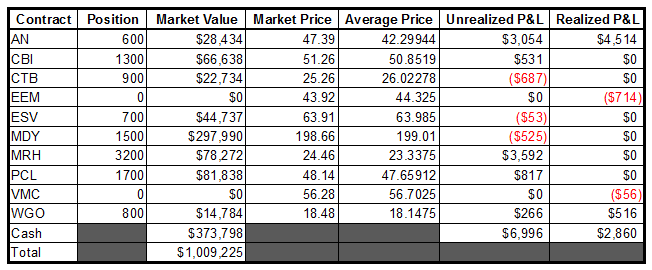 -EM