Disclaimer: my apologies for the delay on this post.  I had penned what may have been the greatest blog post in the history of man when many of the words were suddenly swallowed by a vat of olive oil (extra virgin, of course) when I pushed the "save post" button last evening (unfortunately the less interesting parts were saved).  Yes, I realize that this information is dated, but wanted to get it out there anyway.
Earlier this evening a Twitter follower named "Southpaw" (I knew I had to be friends with an avatar like that) posed the following question: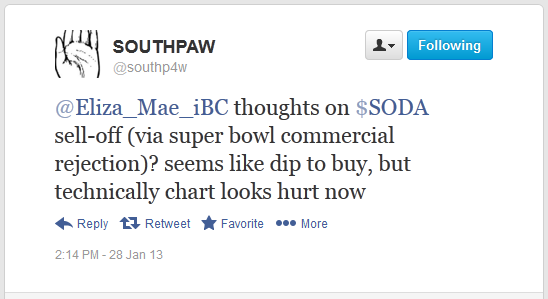 As an aside, if you read this blog with any sort of frequency, you recognize how much I enjoy doing reader requests.  If you have a stock you want me to take a look at, feel free to let me know because as far as I'm concerned, we're all trying to learn here anyway.
Back to the topic at hand: SODA.  In my weekend "Top 10" post, I had SODA as my number one (1) choice.  My top secret scoring system uses an extremely complicated algorithm which should be of no concern to you at this juncture.  With that, let's take a look at the weekly.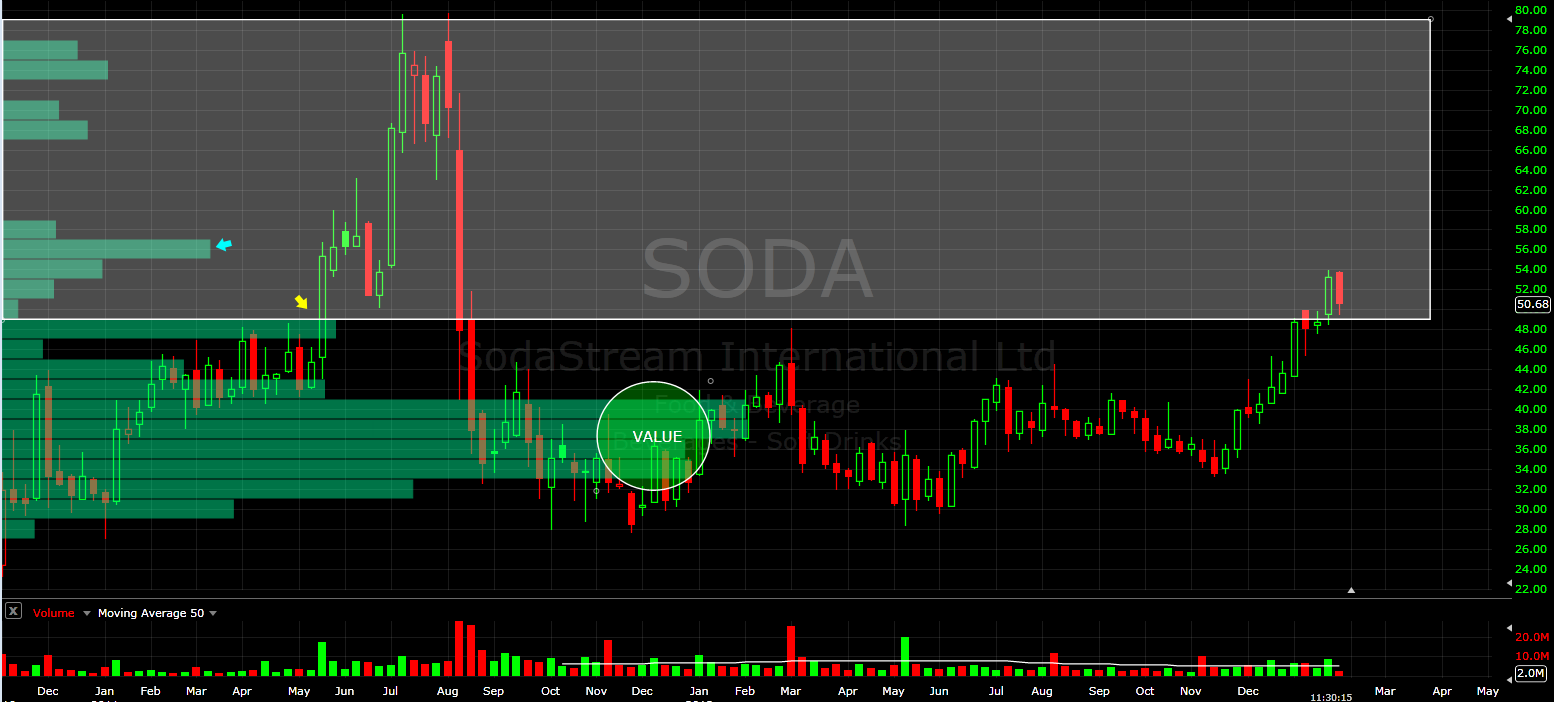 When using PbV to analyze a stock, we need to take into account how much data we have available.  With a stock like SODA that has been public for a little over two years, the volume profile will be characterized and affected by the range of prices.  SODA just happens to have a very large distribution of prices from the low 20's to almost 80.  With only two years of data and such a large distribution, there are likely to be "voids" somewhere in there.
Clearly buyers and sellers have determined that fair "value" for this stock is somewhere between 32 and 40.
Taking a look at where we are now, SODA does have very little historical volume above 50 (with the exception of around 57 which happens to be the last point of resistance, as signified with the blue arrow).   If price is able to get through this point, it could really run.
To the downside, I would say that 48 is the first (and final, for our purposes, yellow arrow above) point of support.  If price cannot sustain this level, I would go and look for better opportunities.
As for the daily: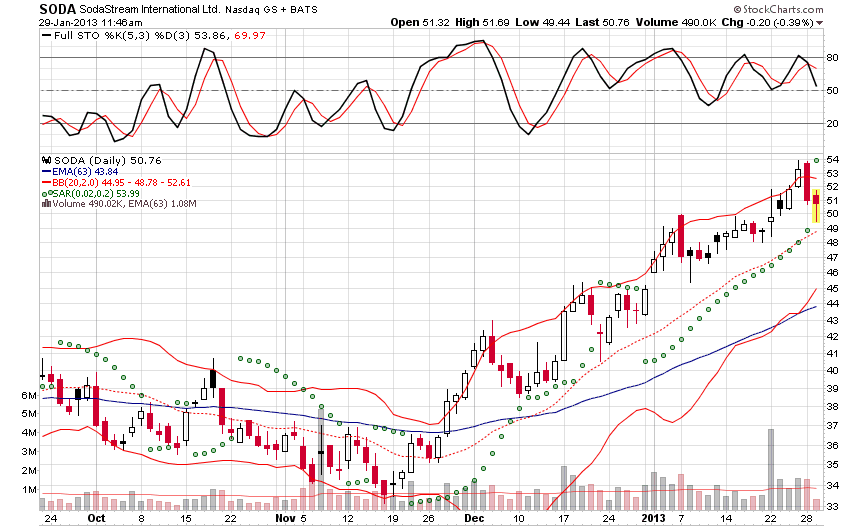 We have seen this stock violently pull back, meander sideways for a couple of weeks then go higher once this year already.  I think that if it is indeed forming another base here and breaks free, then the next stop is 57.
As of now, I am going to be very patient with this and let the dust settle.  I have a price in mind where I would like to start a position.  All I have to do is wait in the tall grass for it to come to me.
Bottom line: I'm feeling quite bullish on this stock as long as it can remain above 48.
For the sake of completeness, here an abbreviated portfolio update:


-EM