One element of the stock market that I have always been intrigued by is industry performance.  Regularly I find myself trying to devise methods to quantify this particular area of study.
Over the years I have noticed that in pretty much every market, there are industries that are, for one reason or another, outperforming and underperforming.  In shitty markets, Tobacco and Utilities are where the money goes.  In good markets, anything is fair game (though the previously mentioned industries do tend to underperform).
With this in mind, I thought it would be interesting to examine my watchlist to see if any themes emerge.
I mentioned last night that the stocks in my watchlist, in general, have high "hybrid score" ratings by The PPT.  For the unwashed, this means that The PPT scores these stocks highly on fundamentals and technicals.  Basically, these are "good" stocks.
Ok, so…using one of my favorite Excel functions, the pivot table, I have broken down my watchlist by sector, industry and sub-industry.  After some formatting and copy-pasting, here is what we have: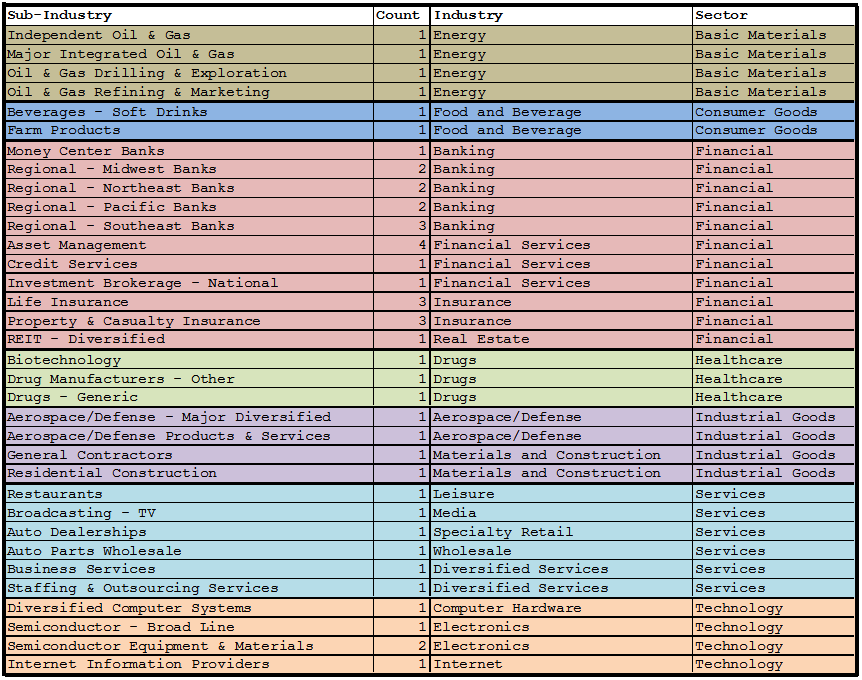 Financials are clearly dominating the list.  I said it last night…both Insurance (6) and Regional Banks (9) are popping up all over the place.
I'm being indiscriminate about what stocks I'm choosing to watch…so the inclusion of so many financials on the list is purely a function of what the long-term price action is telling me.  I'm following 23 Financials, 24 stocks in every other sector.
What does this mean?
Answer: I would have to say that it leads me to be bullish on Financials.
Just something to ponder.
See you tomorrow morning.
-EM