I charted regional financial Boston Private Financial Holdings, Inc (BPFH) as a long idea for you back on May 20th, and looking at the stock now on multiple timeframes I am liking what I see even more.
First, the monthly timeframe is the top chart, below. Note that the stock has been basically flatlining since its 2008 crash, along with most other financials.
So, why break out now, instead of simply continuing to be dead money?
The second chart zooms in to the daily timeframe. Note last Friday's buy volume as the stock broke out from well-defined resistance. Despite an intraday fade off the highs, it still closed above that $10 level.
Alright, so a short-term breakout perhaps. But what about the larger picture for a major breakout?
Well, then consider the third chart, below, of the weekly timeframe, spanning several quarters. Here we can see a compressed symmetrical triangle comprising years of higher lows but also lower highs. Eventually, this resolves itself in favor of the buyers making higher lows or the sellers forcing lower highs. And you can see on that weekly chart that with last Friday's action buyers sure are giving that breakout higher a go.
What is interesting here is that the $10 handle is also resistance on that monthly chart we looked at first. So, if the stock can push up and out of this level right here, right now, suddenly we are looking at a wildly bullish development on all timeframes.
_______________________________________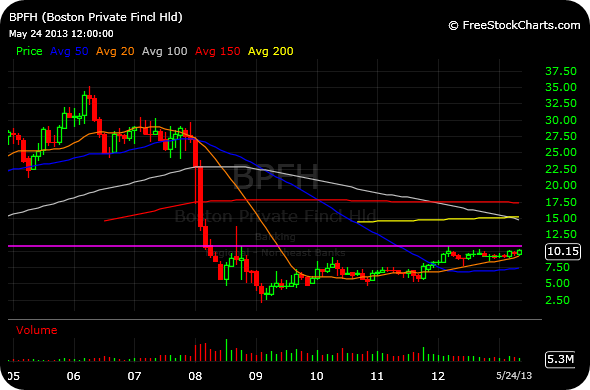 _______________________________________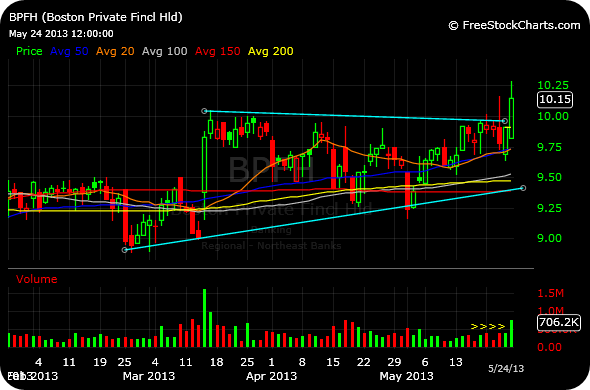 _______________________________________