The most rewarding aspect, far and away, of running the 12631 Trading Service with @RaginCajun is when our members develop the confidence to succeed and focus on the execution to flourish. Both Ragin and I could be busy writing blog posts, researching, or on a cold streak, but you can be sure we will have members lighting up our chat room with great trading and original ideas not seen virtually anywhere else. There is no pump and no hustle. Just the real deal, with traders who want to succeed in a supportive atmosphere.
Here are some screen shots from last night and this morning in our chat room. There is a constant flow of ideas morning through night, even overnight.
First, member @Moygoodness put on a clinic on how to trade Apple through earnings. Recall that I almost never play earnings. But we have a diverse service with traders who can execute many different styles.


Next, member tca.owner brings a great-looing stock to our attention in $BIOL, while Ragin and member zapped4 discuss $BCRX.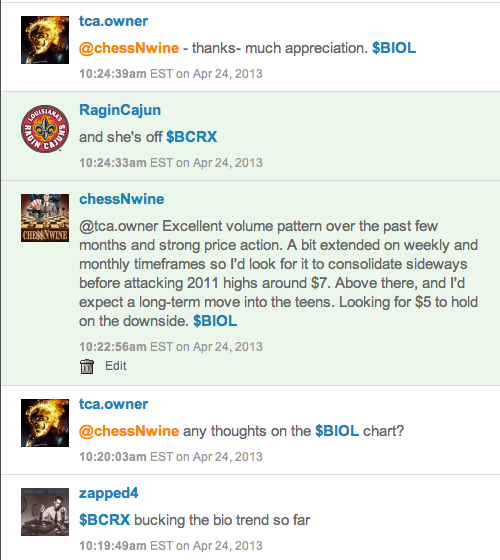 If you enjoy the content at iBankCoin, please follow us on Twitter