The massively-mediocre aluminum giant, Alcoa, kicks off another earnings season on Monday. I am not much of an earnings gambler, and do not have much to say specifically about a directional bet.
However, observing the monthly chart below, you can see the Bollinger Bands now really starting to pinch in. Price has gone literally nowhere for quarters on end, indicative of a stalemate between buyers and sellers, not to mention a potential volatility squeeze looming. Something has got to give, eventually. An options "straddle" strategy seems to make sense in the coming months, since a big move could easily come in either direction.
But those pinched in Bollinger Bands, as tight as they are here, is a relatively rare occurrence on the monthly timeframe. You might see this type of price action in small biotechs who essentially go dead for quarters on end, awaiting an FDA announcement. Here, we have a massive Dow component which may finally be ready for a legitimate move.
_______________________________________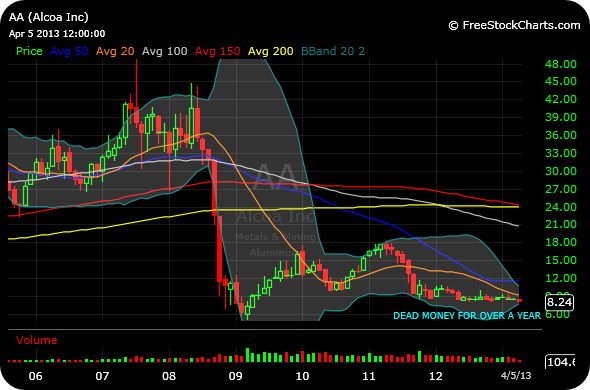 If you enjoy the content at iBankCoin, please follow us on Twitter