When Salon.com ran an article on Tuesday entitled, "Is Facebook Over?" I was reticent to pay it much attention as a bullish contrarian indicator, namely because of the question mark showing a measured approach. Nonetheless, I sold Facebook above $30 inside 12631 last month and have been looking for a reason, post-earnings, to get involved with the stock again on the long side.
I still think you are talking about one of the most hated IPO's and stocks in recent memory. The CEO is not particularly well-liked, either. And the general feeling is that Twitter is the much cooler kid on the block. You might be surprised to hear that I agree with all of those statements.
And yet, the stock price and action can take on a life of its own. Facebook's stock had plenty of time, if you had the patience last summer, to crash and burn after the IPO. Currently, the weekly chart is still holding well above the $24.25 breakout. It is currently in pullback/consolidation mode, but I am still inclined to look for buyers coming in rather than a big top.
__________________________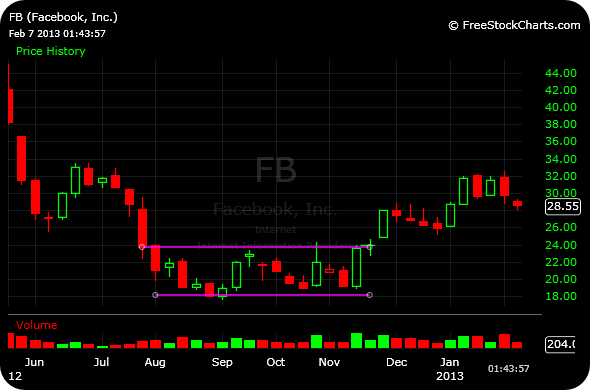 If you enjoy the content at iBankCoin, please follow us on Twitter