Different Name, Same Game
Research in Motion might have changed its name and symbol (BlackBerry, BBRY), but the stock continues to do everything it needs to be doing to make the case for a major bottom.
As an example, today the stock is bouncing hard off its 50-day moving average. This is the first test of the 50-day since last October. Moving averages are best used as reference points of strength or lack thereof, rather than automatic places to buy or short. Here, the reaction to the 50-day test is stellar, particularly when the rest of the tape is weak today.
Even after the sharp rally off last autumn's lows, BlackBerry remains a hated firm and hated stock. However, the price action is telling a different story. I would look for recent $13 lows to hold.
Also See: Listen to Research in Motion's Dying Declaration
__________________________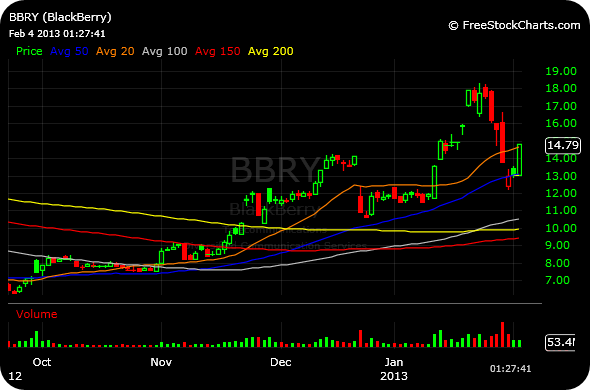 Previous Posts by chessNwine
2 Responses to Different Name, Same Game
I'm sure you're happy that you're a technical analyst – I'm not sure the fundamental guys have anything to look at what-so-ever.
I agree on that. But the huge dive in price over the past few years could easily have baked in all the bad news.