To follow-up on my last post about chicken prices and chicken plays, let us look at an obvious play in the space–Buffalo Wild Wings.
First, courtesy of The PPT, we can see that February and especially March (up nine out of nine times) are particularly bullish for the stock. True, the stock has only been higher 60% of the time for the month of February.  But when it goes up, it goes up big.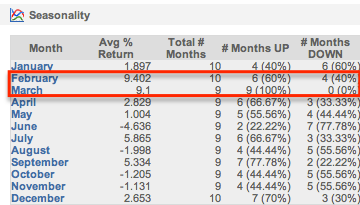 Turning to the monthly timeframe, the stock is essentially showing mild indecision (on this timeframe) along its 20 period monthly moving average. As long as stop-loss discipline can be maintained below recent lows, BWLD is likely setting up be to another seasonal stalwart trade. Thus far, it does not appear the surge in chicken-wing prices amidst an apparent shortage is adversely affecting business. The height of chicken-wing celebrations tends to come in the period running from the NFL playoffs into college basketball's March Madness. It is hard to see seasonal fans abolishing a time-honored tradition and popular mode of relaxation even with the price increases.
While I am looking for strength into April here, I am also mindful of earnings on February 12th. I will be actively stalking the market's reaction at that time.
____________________________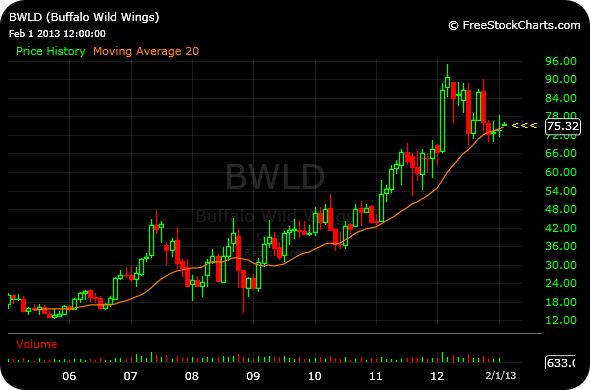 If you enjoy the content at iBankCoin, please follow us on Twitter