NOTE: chessNwine's Weekly Strategy Session has been published and sent out to members this week. I am confident that you will find this week's version to be of tremendous value in your weekly preparations for the market. It is never too late to sign up at a very reasonable price, so please click here for more details about subscribing or even making a one-time purchase (the subscription plans offer much better value over time). As a reminder, members of 12631 receive the Weekly Strategy Session at no additional cost, as it is included in their membership.
Let's look at a quarterly chart of the all-American conglomerate General Electric, dating back to when the above jingle was known in every household from sea to shining sea.
Clearly, the $21.65 up through $23 price zone proved to be a significant one for at least the past twelve years. GE benefitted from the dot-com run-up to conclude last century, and also received a good beating during the 2007-2009 bear. Bailout and corporate tax talk aside, the dust has now settled for this stock and the issue is whether it can stage the big breakout here.
You might argue the stock is building a bull flag on this ultra-long timeframe since last September, just under major resistance. Why is this area so critical? It marked major support in the 2002-2003 bear market bottom, resistance in 2011, and resistance once again since last autumn.
The stock has clearly been in a secular bear of its own since 2000. So, it may not be ready quite yet. But I will let the market make that call. I am simply looking at the $23 level on the upside, expecting a move to $35 if triggered.
________________________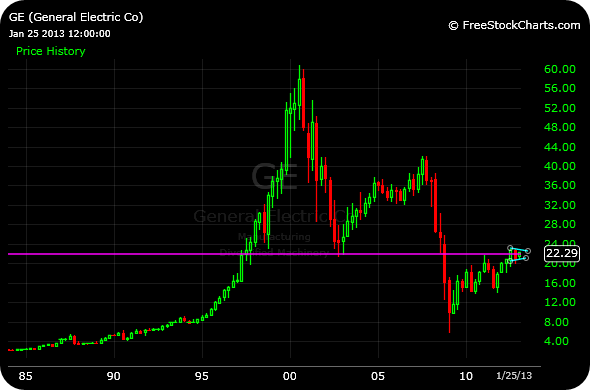 If you enjoy the content at iBankCoin, please follow us on Twitter