Price Has Memory, Part 10,000
Ethan Allen Interiors has recently sprung back to life on shorter-term timeframes. Going back over a decade, though, we can see just how significant this $30 level truly is, serving as the ultimate support for many years last decade before finally losing it in 2008.
The stock found expected resistance here last October. At that point, we needed to hone in on how it reacted. As you can see on the updated monthly chart below, we have seen some tightening up of price into arguably a bull flag below major resistance. The stock may need some more time, but a breakout from this level would indeed be as significant as it gets given the long-term ramifications.
_____________________________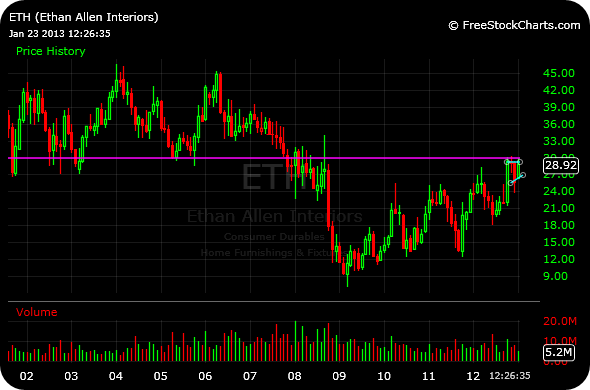 Previous Posts by chessNwine
3 Responses to Price Has Memory, Part 10,000
chess, what do you think about KORS? thanks
thanks.