Please consult the iBC Dictionary for the "WTF Chart Pattern".
It's always on time! (Note: 3:00PM)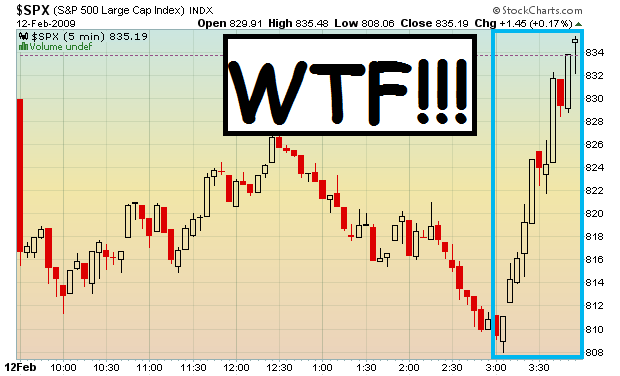 18 Responses to WHAT THE FUCK
hint- volumes trading up were alot higher after the first bottoming process while volume in the lunch and post lunch sessions were lower. After the 7700ish bottom, the market sprung up.
a very reliable chart pattern indeud.
mother fucker
"makes you say "What the Fuck!!!" everytime". 'specially if you're short. kinda like the good old shamwow.
IBC Dictionary, indeud! Hahahaha!!
probably one of the greatest things Ive ever penned.
I saw the "breaking news" on CNBC. What? Obama paying for your mortgage? The first thought is "fuck, more of MY money paying for my neighbor". My next thought is "is this a trade?" So, I went long BGU shortly after with a tight stop, thinking this could give me a quick 30 cents. Well, shorts got squeezed and hilarity ensued. As you know, it's worth keeping CNBC on for this type of shit. The tons of retail investors out there are going to buy in on "breaking news". The synchronized purchase is going to show up on the tape. Others see it, others follow. Shorts get squeezed, and the market goes up.
Also, http://shampow.ytmnd.com
ShamPOW motherfucker!!
Rumor mill induced squick save.
WTF is right. The question is WTF are we going to do about it? Is this a one hour wonder or will it run awhile?
WTF you're going to do is just follow the tape and trade accordingly. Long gone is the buy and hold…NO, the swing trader. If your hot, sweaty, fat ass isn't glued to chair in front of the computer, you have a huge disadvantage in this market.
Also, I like long SLV and short NTRS for a longer term trade.
shazbot true dat!!
I don't know the creditability of this trader "My LifeMyTrade" but its an interesting read. Written Thursday PM 02-12. What is your opinion on this.
"Look at the spy volume in last 1 hour – pathetic… first hour had more volume.. and the last hour on most other days in this year has had more volume…. this is a head fake.. pulled in poor bulls… i would rather say that it shook out weak bears..
Tomorrow, we open lower than where we opened today and do not look back. We also take out the all-time low on XLF tomorrow. XLF is going to see 7.xx tomorrow.
With the bad news coming from Europe and Asia, bulls are not gonna like the prospect of holding their positions over the long weekend and having to handle two days of bad news from Europe and Asia to handle on the Tuesday open.
Get ready for Black Friday. I almost entered into hedges for my Feb options when the bounce started. I am glad I did not do so… Get ready for a massive gap down tomorrow…. and guess what that gap aint getting filled for some time." – MyLifeMyTrade
Addict–
Check out Walstreetpros new video. Its another classic.
Congrats on #2 position!
That's why I haven't been playing for last three days.
I also have not traded for 3 days. I picked the perfect time to take a break and take care of life stuff.
Watching now! Rofl as always.