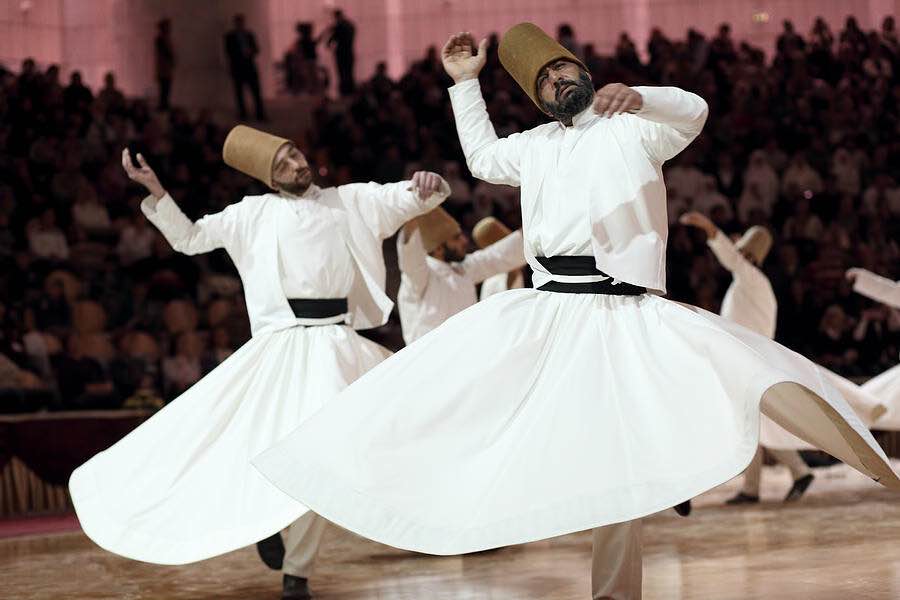 Whirling Dervish Urban Slang Definition: (n.) A person whose behavior resembles a rapid, spinning object. These actions are often spastic fidgeting and incessant babbling. The actions of the whirling dervish are irritating and annoying, often exhausting other people in the immediate vicinity.
Our friend James Bullard is out pulling a 180 tonight and walking us back from the rate hike talk of December which is just a mere 8 weeks ago.  He is also quoted as saying the Fed could revisit negative interest rates if needed but that we are not remotely close to that scenario now and that no stimulus is needed at present.  Huh? Do you remember in December when he said that we need to understand that employment gains might slow as the economy normalizes and that we should not react to that data as necessarily bad?  He was basically saying in code that "We are going to hike regardless of the bad data that might occur!"  The problem is that the market will not be calmed by this Whirling Dervish jaw boning anymore.  They are looking increasingly scared and foolish.  They also need to get their stories straight as Yellen is not even sure that negative interest rates are legal.
ST. LOUIS (Reuters) – It would be "unwise" for the U.S. Federal Reserve to continue hiking interest rates given declining inflation expectations and recent equity market volatility, St. Louis Fed President James Bullard said on Wednesday in comments that mark a stark change of direction for one of the Fed's more hawkish inflation foes.

Bullard for much of last year argued for an earlier rate hike, but said he now feels key assumptions supporting higher rates have been undermined.

Inflation expectations have fallen "too far for comfort," making it more probable inflation itself will fall and continue to miss the Fed's 2 percent target, Bullard said in remarks prepared for delivery to a gathering of financial analysts.

"I regard it as unwise to continue a normalization strategy in an environment of declining market-based inflation expectations," Bullard said. In addition, declining equity prices and other tightened financial conditions have made dangerous asset bubbles "less of a concern over the medium term."

Taken together, Bullard said he sees them likely giving the policy-setting Federal Open Market Committee "more leeway in its normalization program."

Recent comments by Fed officials already made it seem unlikely the U.S. central bank would raise rates when it next meets in March, but Bullard's comments indicate broad concern over the conditions facing the Fed. Bullard, who votes on the rate-setting committee this year, has been among the stronger advocates of higher rates, but feels the case has grown weaker since the Fed's "liftoff" rate hike in December.

"Two important pillars of the 2015 case for U.S. monetary policy normalization have changed," Bullard said.

His comments echo the fears raised by Fed officials at their last policy meeting. According to minutes of that session, released on Wednesday, Fed officials discussed whether a more volatile global environment would throw their outlook for rates off track.

Investors have already pushed expectations for a second Fed rate hike deep into 2016.

Bullard said it may be time for the Fed to consider the value of its quarterly rate path projections. He said that while the Fed wants to be "data dependent," those forecasts are possibly being construed as an "inadvertent calendar-based commitment" that causes confusion when economic conditions change.
We also have Neel Kashkari the newest Fed President, who has been on the job all of 6 weeks, coming out saying we need to break up the TBTF banks.  Maybe I am too cynical but I think 6 weeks on the job is too soon to come out on CNBC with such headline grabbing statements.
The bottom line is that I smell fear and so can the market.  They need to take this debate behind closed doors and stop all the madness and confusion that they are creating.  The market demands action.  Given some technical indicators I am seeing I think the markets will test the Fed very soon and this rally will burn out like a roman candle.
If you enjoy the content at iBankCoin, please follow us on Twitter