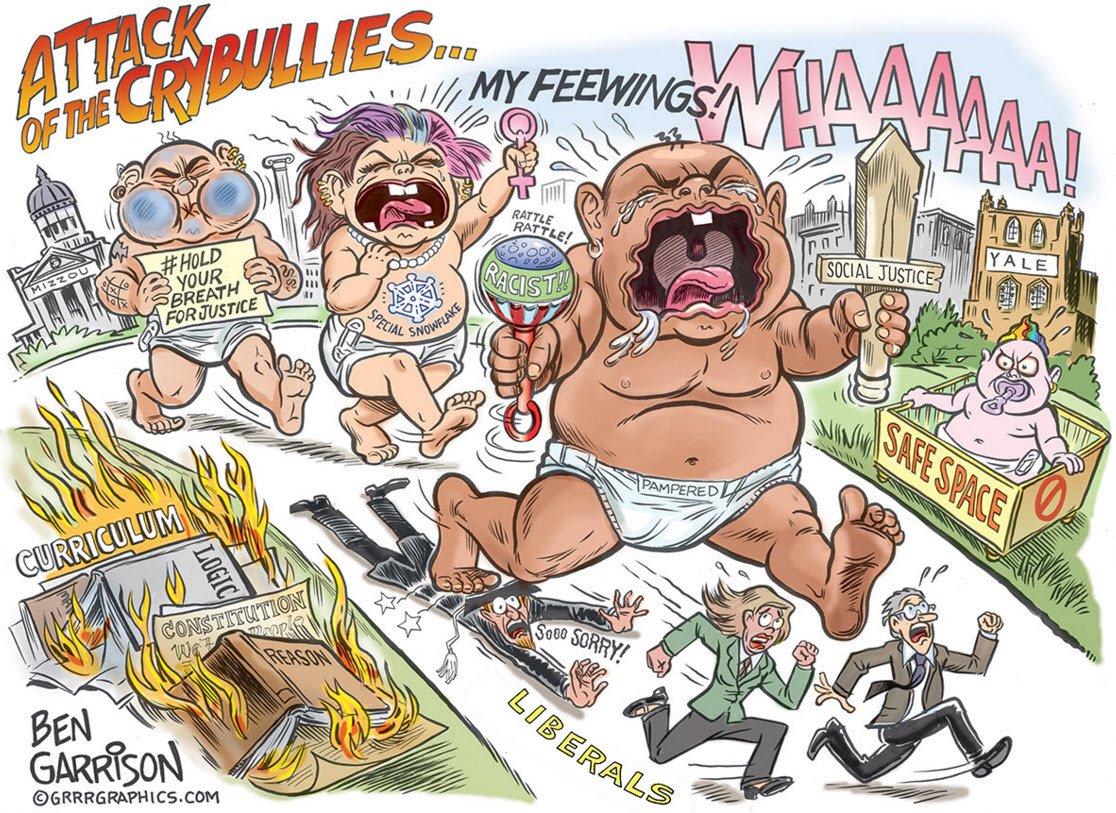 Happy Thanksgiving!  I am going to take a break from the markets to talk about the current wave of political correctness sweeping the Nations's Universities.  I am a strong proponent of civil debate and freedom of speech.  The current situation has reached levels of absurdity that in my day would have been laughed at on my campus.
The current issue in a nutshell is this: free speech is offensive to a small minority on the campus and in addition to their "safe spaces" there is a movement to completely eradicate free speech that is offensive.  I recently had the opportunity to talk to a board member of a prestigious university who is a great friend and a mentor to me.  This person gave me my shot to be a PM in the business.  This person also happens to be a minority that was called in to help negotiate a settlement between the administration and the students.  The good news is this university is not going to ban free speech.
We basically tried to pinpoint what the exact nature of this problem was and how to solve it.  Before I begin I want to make something very clear this is not a necessarily a minority vs majority issue.  Apparently everyone on campus is offended.  The movement is a ploy to control what others say and to regulate speech of all kinds.  Aside from the obvious totalitarian nature of this movement at it's core it is about other peoples feelings being hurt.  The greatest sin now is to hurt someones feelings by what you say whether it was a true hurt or imagined.  Today's current students want the administration to step in and regulate speech they find offensive.   Back when my friend and I went to college people said stupid things all the time.  We came to the conclusion that one of the greatest lessons of college was to learn that you can't control what other people say or do but you can control how you react to it.  Most folks who say outrageous things are looking for a reaction.  When you get upset and react visibly you have given them the power.  On the other hand if you ignore them and walk away they have no power over you.  Learning to have a thick skin and ignoring what other people say or do is one of the best skills you can develop in life.  The world is full of assholes and we can't legislate them away.  Back in our day these things were self regulating.  Bigots and assholes were ignored and on the academic front people that had weak arguments and critical thinking lost in the exchange of ideas.
We came to the conclusion that the primary cause of this sensitivity is from over parenting to the point that collectively these kids never learned how to work things out between themselves.  When my friend and I were growing up our parents were just not that involved.  We did not have arranged play dates, our parents did not go to every sporting event and when we were bored they would open the screen door and say go find someone to play with outside.  We would roam the neighborhood from dawn to dusk until dinner.  Issues and problems between kids were sorted out on the playground.   Apparently today our parents would be reported to Child Protective Services and arrested for letting us roam the neighborhood.  So basically these kids have been pampered and protected by mommy and daddy from any bullies and meanies.  I went on a road trip a few years ago to visit friends and we discussed that we were all way too involved in our kids lives compared to our parents who in retrospect really didn't do much other than feed and clothe us and instill some manners and morals.  The rest was up to us.
The good news is that my friend is actually going to suggest  to the administration that part of the university experience for these kids is to learn that one can only control how one reacts to offensive speech and that one cannot control what others say or do.  Clearly there are codes of conduct that have been established by Universities and we had them when I was there but we can't let them morph into Mao's Little  Red Book.  The University experience is about becoming an adult and should not be an extension of over protective parenting.
I think this trend has primarily peaked because we have reached crazy extremes, generational cyclicality and unfortunately its going to get very serious for these graduates very soon.  It is becoming increasingly apparent that the debt crisis is morphing into a geopolitical crisis and economic crisis.  The drumbeats of war which have been faint are becoming louder and louder.  These students will be pining for the halcyon days of having their feelings hurt.
If you enjoy the content at iBankCoin, please follow us on Twitter