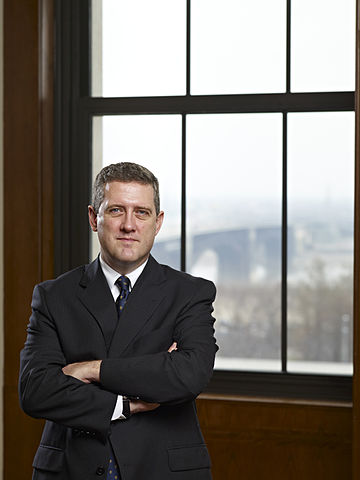 James Bullard just gave a speech that seems to be flying under the radar tonight.  In the speech he basically is saying the Fed needs to mount a communication campaign to convince the market that a slowing jobs growth market is ok and natural thus allowing them to stay on course to raise rates in December.  A couple of things come to mind: 1) They know the number and the jobs growth number tomorrow is likely sub par and 2) They are going to raise rates anyway criticism be damned.  Bullard is a slight Hawk but he also noted that the Fed used its statement last week to reel in market expectations which had pushed the rate hike into next year.  Those statements had the blessings of Janet and I think Bullard is not off of the reservation on this one.  I think the Fed is communicating to the market that "we" are going ahead despite the data between now and December. Below is part of the interview:
The Federal Reserve has been struggling to convince investors it is about to raise interest rates and now faces the risk that a likely slowdown in job growth will be interpreted as a downturn in the broader economy that will cause the Fed to hold off yet again, St. Louis Fed President James Bullard said on Thursday.
In an interview with Reuters, Bullard said U.S. central bankers may need to mount a new communications campaign to convince markets and the public of a counter-intuitive idea: that slowing monthly job growth is natural at this point in the recovery, and will allow the Fed to stay on track for a likely December rate hike.
Job growth averaging more than 200,000 per month during the recovery is unsustainable, Bullard said, estimating that growth of between 100,000 and 125,000 per month would be enough to account for an increasing population and a trend rate of economic growth.
"This is not Lake Wobegon. You cannot be above average all the time," Bullard said. "I don't think markets have absorbed this. Everyone has in their head 200,000…The natural expectation is for the pace of job growth to slow in the months and quarters ahead. We are expecting that to happen. It would be normal, and that would not indicate poor macroeconomic performance."
The market participants are not ready for this kind of thinking.  I did a twitter poll and asked if folks thought they would raise rates no matter what happens before December. The poll results were 80% in favor of 'no' they will not raise rates in December and they will add more Vodka to the punch bowl instead.  I think the Fed is moving forward with rate hikes and I don't think they care what happens to asset prices in the short term.  I don't think many are prepared for that outcome.  I believe they want to test the waters and see what happens.  Janet did put NIRP on the table just in case and gave herself an out.
If you are a GenXer like me you must remember the show Different Strokes.  Well the market may be about to have an Arnold moment "Whatcha Talkin Bout Bullard!"
If you enjoy the content at iBankCoin, please follow us on Twitter