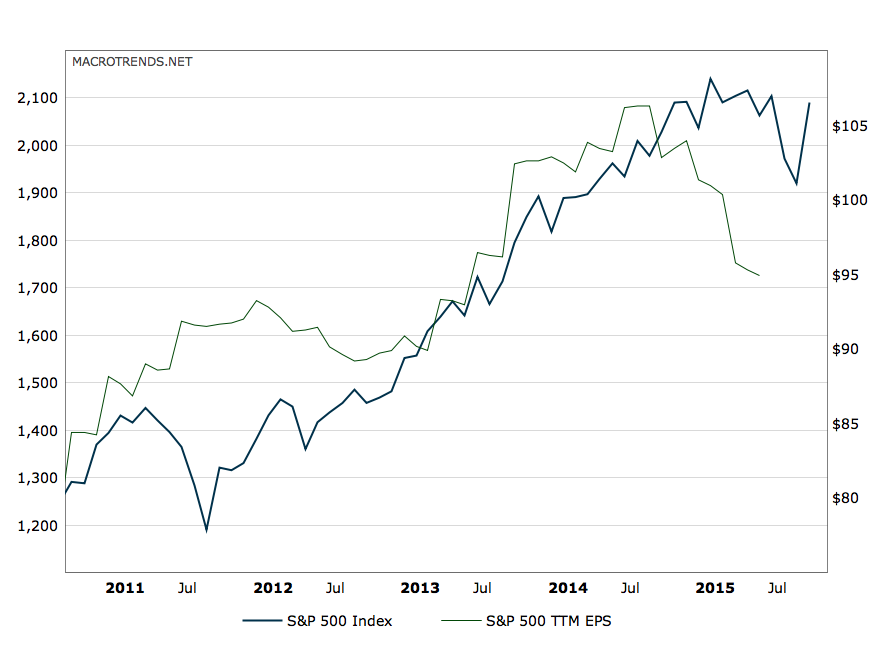 The rally has been powerful and gone on longer than I suspected.  The CB's have been up to their old coordinated tricks.  However there is one big difference  between last years rally and this years rally.  Earnings have been coming down as well as Revenue projections since October 2014.  The Trailing Twelve Month Earnings (not the Forward Earnings) have been rolling over and we now sit at the same earnings level as Mid 2013 when the S&P was 1680.  We all know that QE's effectiveness is diminishing and the sugar high most likely won't last long.  Especially with earnings and revenues apparently decelerating rather quickly.
Notice in 2011 when the market went down 20% earnings never fell.  That correction was due to Systemic European issues and not the end of business cycle and tightening conditions from the Fed like we have today.  The current multiple is 22 versus the 17 registered in Mid 2013.  In the 1998 analogue, that everyone is so keen on, earnings came down as well but very slowly over 18 months about 8% as compared to today where earnings are down over 11% in about 12 months.  In 1998 earnings bottomed rather quickly and accelerated into the 2000 top.  So if you are bullish 1 of 2 things needs to happen: 1) Multiples will continue to expand as earnings and revenues continue to go lower or 2) Earnings will recover quickly and the economy will lift off like it did in 1999-2000.
The big difference between then and now is we were heading into the year 2000 computer fix problem and the birth of the world wide web.  Both caused massive business investment and hiring that lead to a virtuous feedback loop of increased earnings and the blow off top to the greatest bull market ever.  Oh!…did I fail to mention, the Fed was extremely loose with money then because of the fear that the world would end due to the dreaded y2k computer bug fix.  So lets compare 1998-2000 to now: 1) We have no investment on the horizon, 2) the Fed is taking money out of the system and 3) firms are laying folks off again.  In fact Challenger Gray, an outplacement services firm, said job cuts in September accelerated and reached a level not seen since the 3rd quarter of 2009.  Additionally, the global back drop is grim and I suspect credit, which has bounced with equities, will roll over again and widen.  So this is nothing like 1998…nothing at all.  Its not like 2011 either but instead it's 2015 which is the top of a business cycle and at the end of the monetary accommodation.  So if you are a bull I guess your banking on multiple expansion into an earnings and revenue recession.  I guess there is a first for everything.
I still expect a top soon.  In fact we may have seen it this week.  I have not added short exposure lately  and I plan to await confirmation and shoot this market in the back.  Could I be wrong?…Sure, but I don't see anything other than a counter trend rally so far.  Of interest to note that we closed this Friday below last weeks high (Chart below).  After all that drama with the Fed and the BOJ this is all the market could do this week?  Also this rally has been with fewer and fewer issues.  Bull market rallies don't act this way and I would also point out the dramatic underperformance of the small caps.  If I am right about this being a bear market the next big move down should carry us below the August lows.  If it doesn't then something else is at play.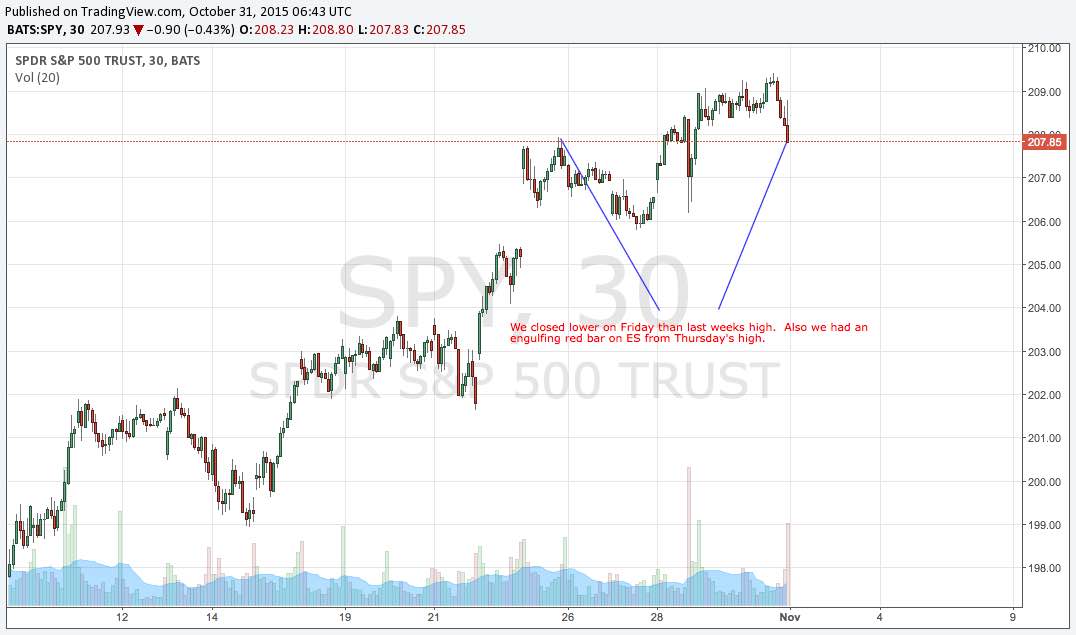 If you enjoy the content at iBankCoin, please follow us on Twitter