Nothing has changed.  Draghi is going to print some more euros.  So what? What have we learned about ECB QE people? It doesn't makes US stocks go up!  It make the Euro go down and European stocks go up.  Did the S&P go up the last time they did ECB QE? No they barely limped sideways and then crashed into August.  ECB QE actually makes the dollar go up which then causes more deflation and financial stress around the world.  Today's equity move was an ending move with a final short squeeze and late to the party FOMO chasing.  All the divergences mentioned yesterday are still in force and have only gotten more extreme.  The small caps where not even in the game.  This was a risk off day despite price going higher.  The Boyz were busy selling to retail today.
Look at the charts below.  The volatility has not disappeared.  It is hiding.  The VVIX is turning up and the VVIX/VIX ratio is even more extreme.  What this tells me is that the rally is stretched. It is not real and we will reverse hard within the next 72 hours.  My guess is we top out (baring another CB intervention) tomorrow.  The sell off and subsequent correction will tell us whether we are heading much lower or if we are going to new ATHs (very doubtful).  I am fairly certain that in the very near term one can make some money fading this market with some well timed puts tomorrow.
In the video above is the scene where Winthrop waits for the short squeeze to mature before he sells at the top.  I did not add to my positions today as I was waiting for a moment like the scene above after I heard Draghi utter his nonsense.  I am going to find my moment to yell "Sell 30 April at 142" tomorrow baring some crazy set up that suggests a melt-up.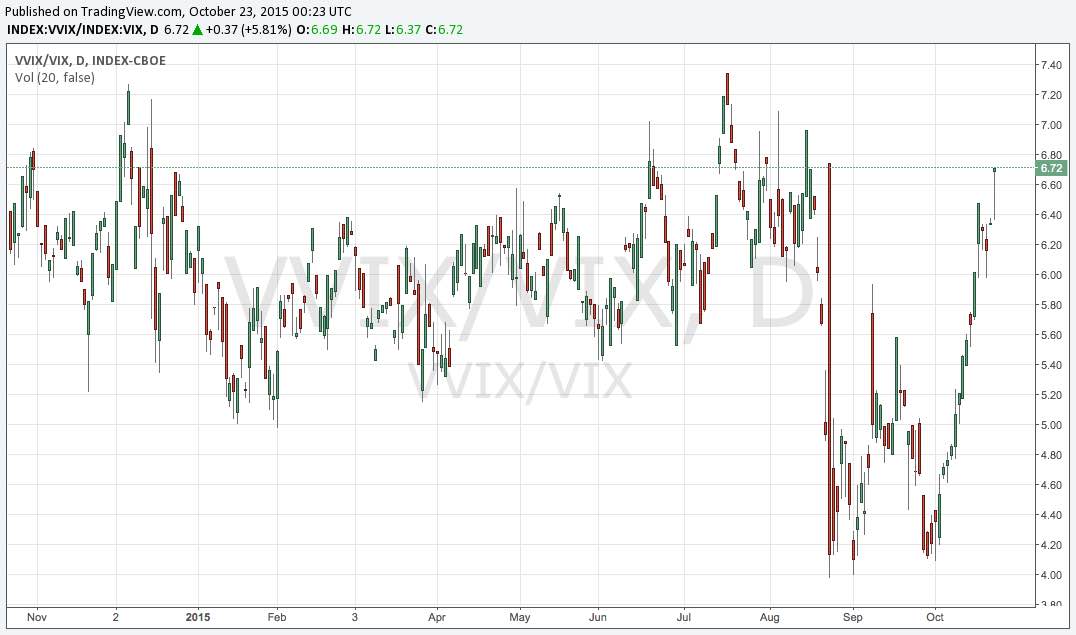 If you enjoy the content at iBankCoin, please follow us on Twitter