The bulls have had a grand time for a few weeks.  Fun time is over and reality is about to set in for the short-term memory impaired.  Again What has changed in a few short weeks?  Are earnings getting better? No!…they are imploding.  Did the Fed announce a New QE? No!…Will they…No!…not until stocks have gone sufficiently lower.  You see bulls, the Global economy is falling apart and the Fed can't do QE until US stocks implode.  Can you imagine the Fed doing QE 4% from ATHs?  Congress would hoist them up by their own petard in this election year.  If that is your bet then great go for it.  Otherwise you are betting on the market to have multiple expansion while earnings are going lower.  That seems like a fairly ridiculous thesis.  So that leaves rational contrarians looking for the second chance top.  There is a very good chance it arrived while you were sleeping last night as we exploded up in an orgy of last minute short covering in Globex Futures and hit a perfect level of resistance and then reversed hard.  I saw that and went to bed with a smile on my face.
So what do the bears have going for them?  Well the fundamentals are awful and nothing has changed.  Credit is still very stressed and we are no longer oversold but we are in fact we are extremely overbought.  We have the VVIX  (the vol of the vol) which bottomed on October 8th signaling that the downside is not done.  The VVIX has been making higher highs and higher lows since June of last year when Oil and Credit Spread tightness peaked (2nd Chart).  Looks like we just made a higher low and have turned back up strongly (1st chart).  The VVIX is important because it is telling a story about a system that is coming apart at the seams.  The Central Banks are literally holding this market together with spit, gum and glue.  They are playing wack-a-mole putting out fires behind the scenes only to have the pressures pop up somewhere else.  The second long term VVIX chart below is telling you that not all is well behind the curtain.  I warned about the rapid repricing of stocks on 8/15 when the VIX was low but the VVIX was rising (3rd Chart).  The set up is very similar to today as it was that weekend before the crash.  Are we going to crash?  No idea but the opportunity to crash is there for the market to take it.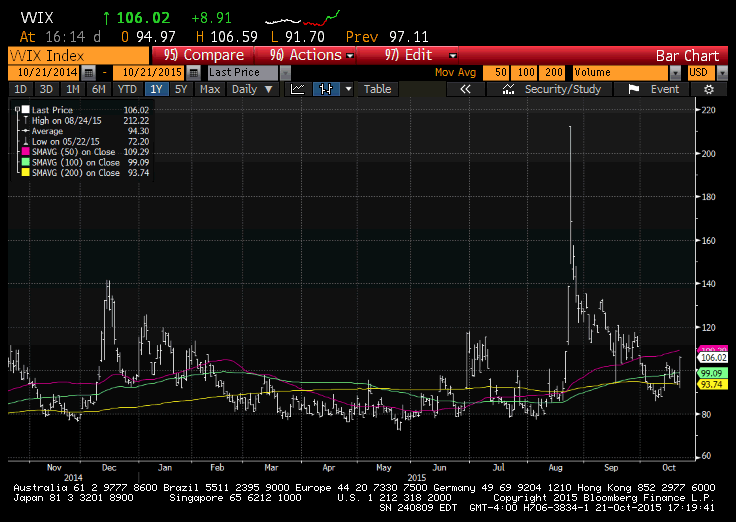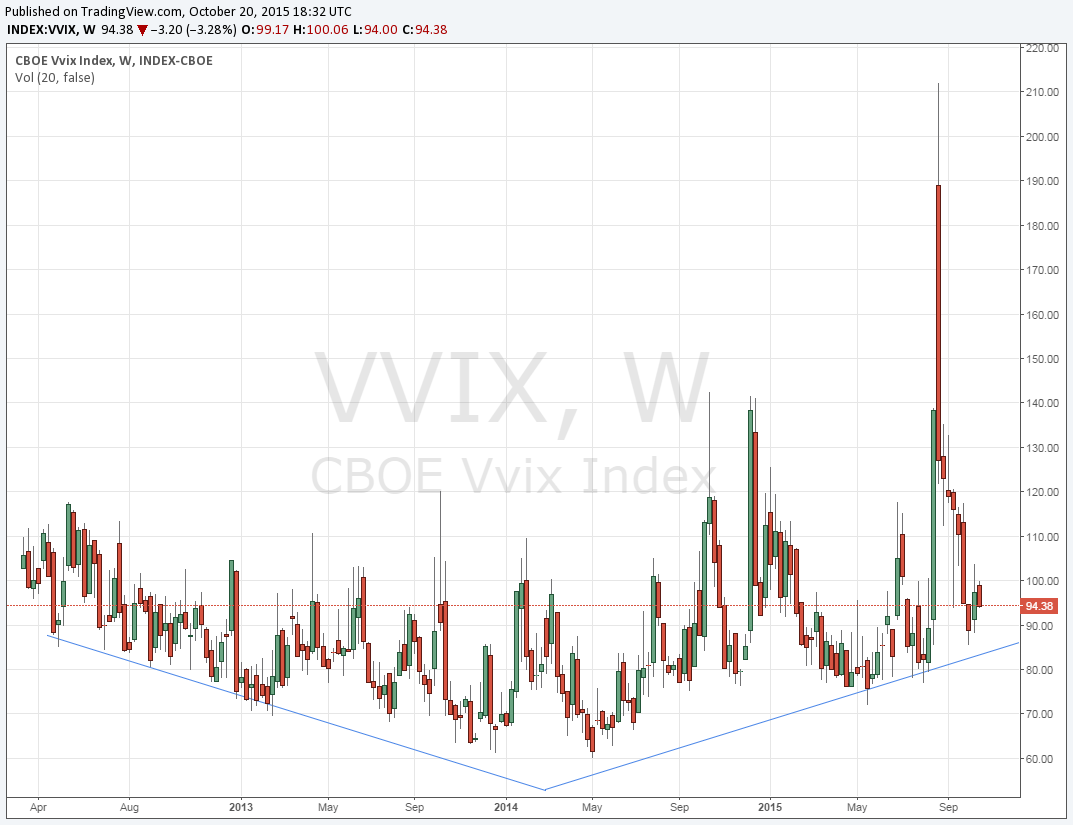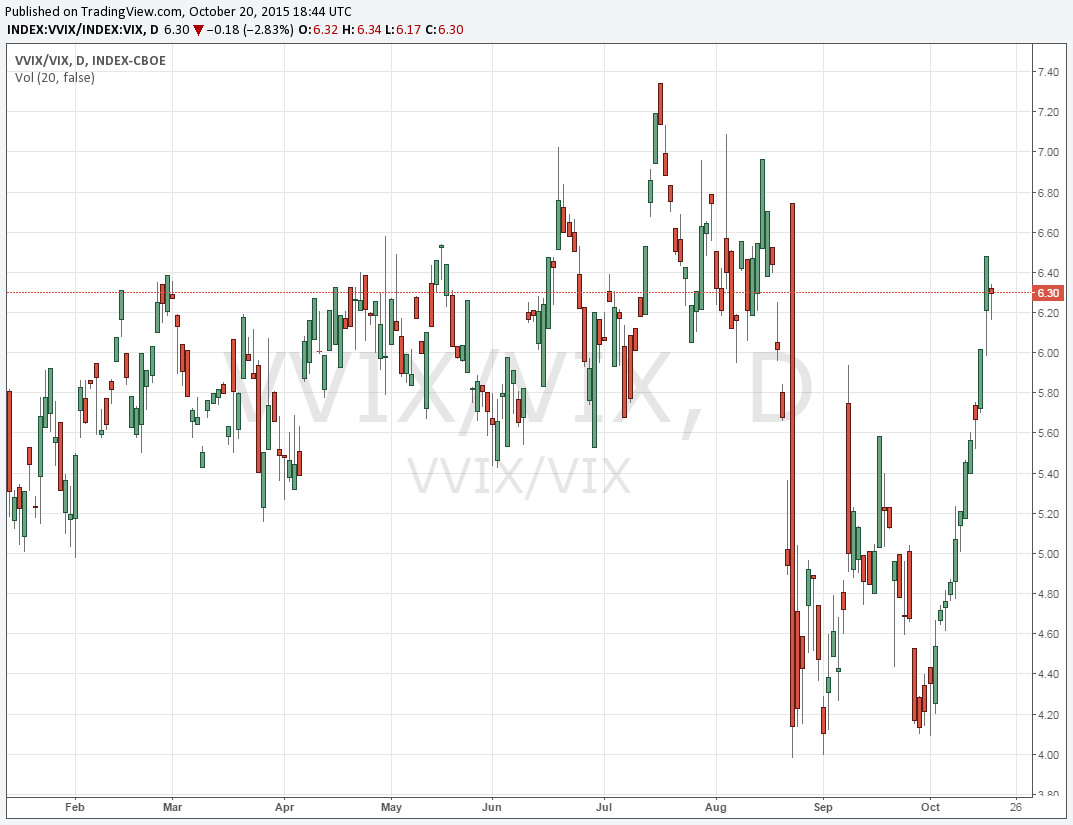 Additionally, the SPX is diverging from oil's current swoon which when it is under $50 dollars causes financial derivative mayhem in the system.  We also have a non-confirmation of highs this week from the Dow Jones Transportation Index which topped out on 10/8 they same day the VVIX bottomed.  And finally it seems the SPX has become completely unhinged from 5 Year Inflation Break Evens (below).  So basically most every other asset class is screaming deflation yet stocks are whistling past the graveyard.  I believe we will take out the August lows and go much lower.  I think this was nothing more than a counter trend rally in the context of a bear market and I think the repricing of this market will happen quickly.  This may be a truly horrifying Halloween for equity investors.  Could I be wrong? Yes…but sadly I don't believe I will.  Don't end up like the Duke Brothers from the movie Trading Places.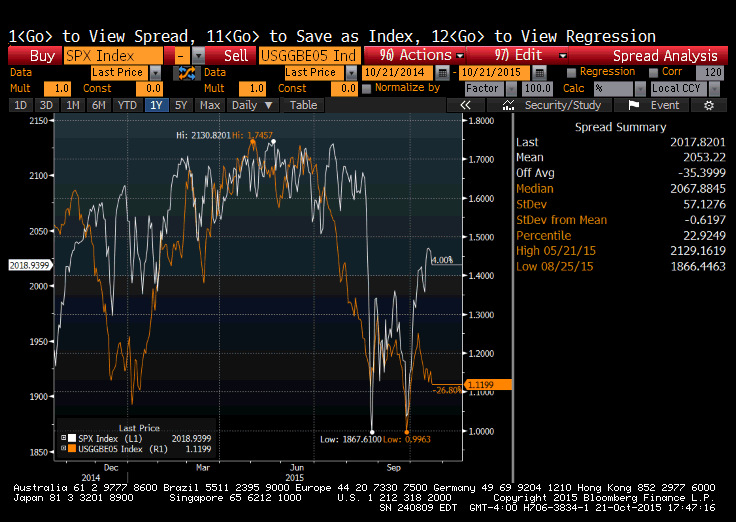 If you enjoy the content at iBankCoin, please follow us on Twitter