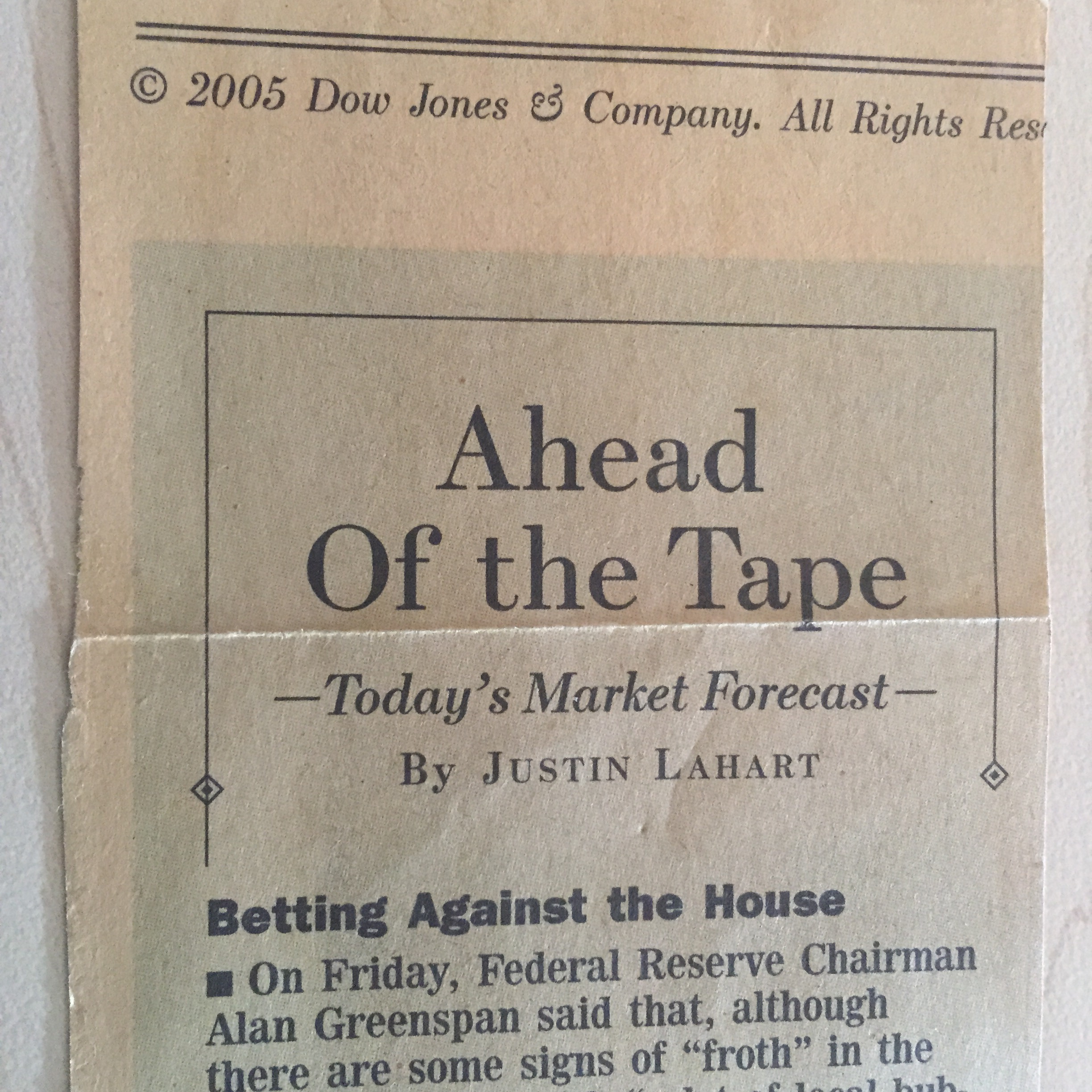 When I was running my growth fund back in 2005 I knew early on that housing was going to blow up the credit and equity markets.  I was reading this article in in the WSJ and I had an epiphany.  My epiphany back then was that the dollar based debt system is designed to blow up with regularity and that whatever is driving the economy at the time using credit will eventually be the unraveling of the economy.  Above you can see the article because I cut it out at the time and taped it to my PC to remind me of what was to come.  I have kept this article in my wallet as a reminder of how this game works.  Now did I go out and position my portfolio for a disaster?  No, but many did and lost their jobs and lots of money because being too early is the same as being wrong.  What I did do is I waited until price started to tell me that I should begin to get nervous.  In February of 2007 the sub prime market blew up and I knew it was time to watch the technicals very closely.  So I began to shift the portfolio away from the consumer, housing and financials.  When the market broke in the fall of 2007 I got extremely defensive and raised cash.  For the next 18 months I put my feet up on my desk and watched as people ran around like chickens with their heads cut off buying every dip saying it was all priced in.  I knew then that it takes time for credit and margin to unwind.
Lets fast forward to today 10 years later.  The warning signs started to show up last spring when the momentum stocks took it on the chin and then credit spreads started to widen in the summer, then commodities took a nose dive followed by energy stocks getting decimated in the fall.  This August the U.S. indices finally cracked.  Basically this has been a bubble of literally everything.  The Fed has inflated ALL FINANCIAL ASSETS.  The economy used to wag financial assets now financial assets wag the economy.  The next bit of news we shall hear is dreadful earnings misses and a complete air pocket of orders filtering through the system.  CEO's get paid on EPS and stock price appreciation so as stock prices fall they cut capex to increase earnings and a virtuous cycle is born the wrong way.  This credit based system is designed to blow up.  Unfortunately we have reached the end game and now $9 trillion of our poison lies on the balance sheets of the emerging market corporates and governements.  At the end of this crisis, which is picking up into high gear, we will see a cry for a new currency system.
This is not the 1987, 1929, 2000, 1998, 2011 or 2008 analogue.  This is the 2015 analogue and it is going to be worse than all of them.  I have warned people for the better part of a year.  My obligation and my conscience are clear now.  I will not feel bad for making a ton of money for what is about to unfold.  This will be fast, brutal and unforgiving.
Below is he last paragraph of the 2005 article.  Ask yourself what are the similarities to today?  Clearly energy has been a big contributor to the economy since the recovery began.  Nearly 1/3 of all capex in the US came from energy.  That is now gone.  Also US exports were strong until the rise in the dollar.  That is now gone.  Housing in the US is about to implode along with the stock market which will cause more jobs to be lost.  You see the Fed bubble is literally in everything and the prices you see before you are fake. They are Fugazis.  The key to understanding the economy since 2009 is one of money printing.  It has been a fake recovery, an illusion so to speak.  In the absence of money printing what will pick up the slack?  Answer: Nothing…this crappy economic recovery implodes.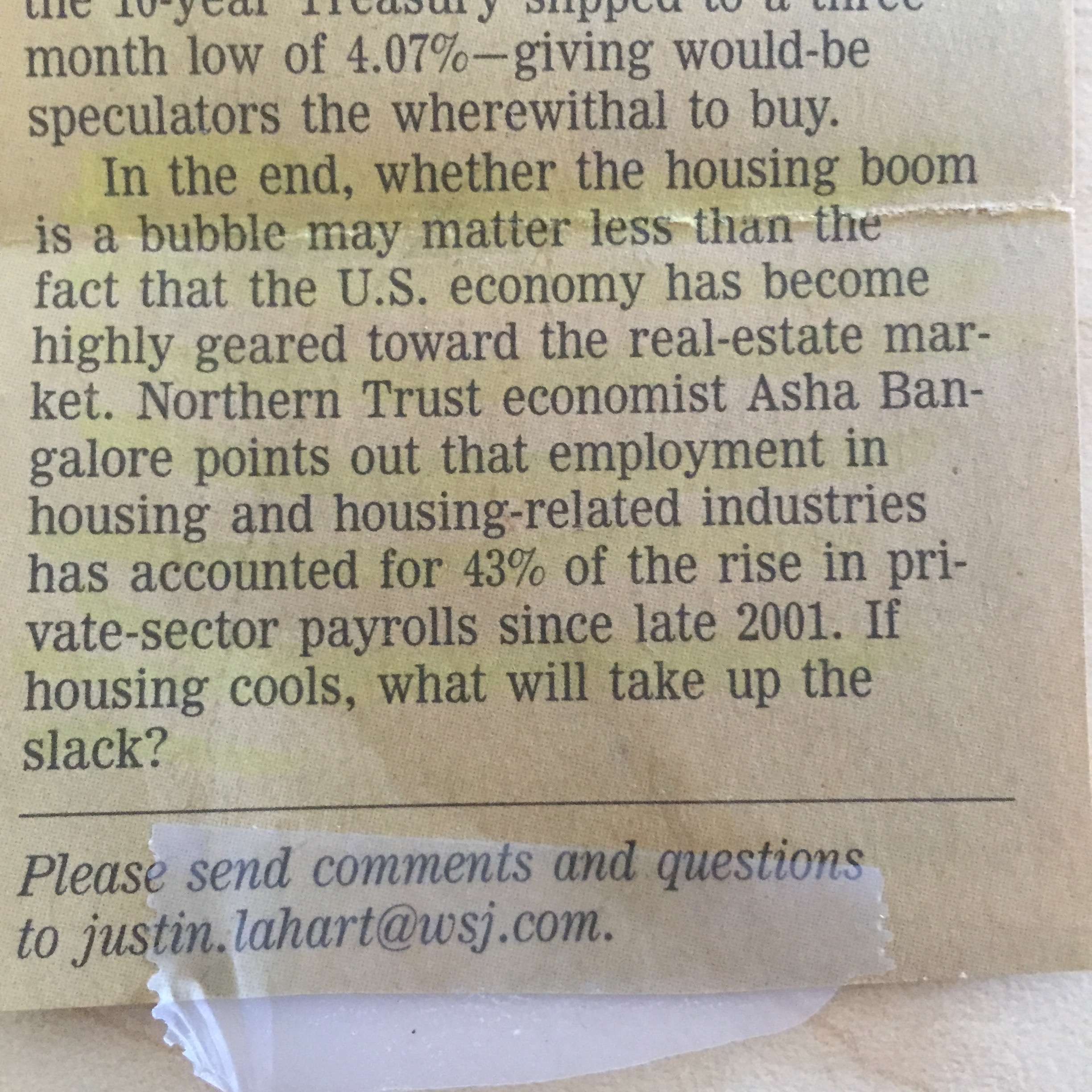 If you enjoy the content at iBankCoin, please follow us on Twitter