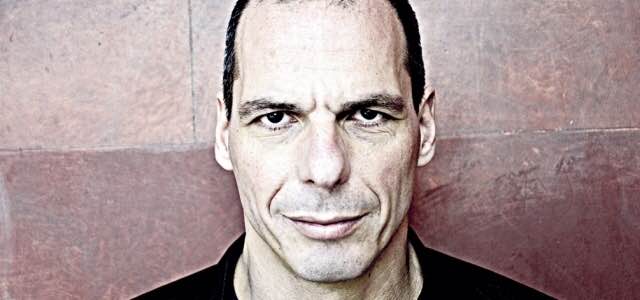 I thought this Greek election issue would have been on its way to irrelevancy by now for global markets.  Usually a party promises its people one thing and then once in power they pivot towards the establishment.  Greek bond spreads have done nothing but widen this week because the New Greek Finance Minister, Yanis Varoufakis, is talking tough.  At first I thought it was nonsense talk initially but as the Greek bonds imploded I investigated further.  Apparently this Yanis is a very serious man as written in the FT:
"Greece will no longer co-operate with the "troika" of international lenders that has overseen its four-year bailout programme, the country's finance minister said.
Yanis Varoufakis also said Greece would not accept an extension of its EU bailout, which expires at the end of February, and without which Greek banks could be shut off from European Central Bank funding.
"This position enabled us to win the trust of the Greek people," Mr Varoufakis said during a joint news conference with Jeroen Dijsselbloem, chairman of the eurogroup of eurozone finance ministers, who was visiting Athens for the first time since a leftwing government came to power this week."
Below is a BBC Interview with Yanis.  The first 3 minutes set the BBC narrative so skip to minute 3 to hear Yanis speak.
Yanis is an academic and an economist.  I think the ECB will have their hands full negotiating with this man.  He wrote a book on Game Theory (Game Theory: A critical text. London and New York: Routledge, 2004).  He is also a blogger (http://yanisvaroufakis.eu) and says he will continue blogging even though he is Finance Minister and pressure has been put on him to stop blogging.  He also tweets @yanisvaroufakis.  The next date to watch is February 28th as the current bailout program for Greece expires and needs to be renewed.  So basically we have a month of negotiations while the capital markets are wobbling.  This should make for a very volatile month. Watch the Greek bond spreads as they will tell us if Yanis has begun to cave into the EU demands.  However, my gut is telling me this man is different and he just might surprise us while the market consensus is that Greece will fold to the demands of the Troika.
I like this man…..he has Balls.  Its like the movie "300" when the Greek King Leonidas tells the vastly superior Persian forces that he will not bow.  Unfortunately for us the next month is all about Greece news flow unless this gets resolved quickly.  After what I learned about Yanis and watching him in the BBC interview I have serious doubts that this will blow over soon.
If you enjoy the content at iBankCoin, please follow us on Twitter