Closed Positions:
Although I didn't make any sales today, I will be selling my entire position in both BPZ and FELE sometime tomorrow (regardless of price action or market backdrop).
New Positions:
I opened new positions in FAF and LAD this morning. First American Financial (FAF) shares have been rising steadily over the past five days and I'm hoping to see that trend continue. Lithia Motors (LAD) shares have been on a nice steady climb since mid-2010. I mentioned previously that I would buy back some of the TITN shares I sold last week if the stock hit the $34 level, which is what I did toward the end of the day today. All of today's trades are shown below:
Open Positions: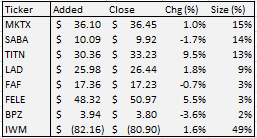 Summary:
Our Select Equity Model lost 1.07% today, which significantly underperformed the 1.55% rise in the SPX. This was one of those days where my long positions failed to outpace my relatively large short position in IWM. On days like today, I tend to find myself walking around the office channeling Too Short and thinking 'I wish I was a little bit taller.'
My two biggest losers today were TITN (-4.4%) and BPZ (-5.7%). It seems as though TITN still had some work to do on the downside after ripping 30%+ after earnings. I added to the position near the close. As for BPZ, the selling started early in the morning and persisted through most of the day today. Both SABA and FELE posted mediocre gains.
The model is currently positioned 58% long and 49% short (leverage = 1.07). Both my proprietary indicators are still signaling additional downside risk. Here are the current values of each indicator:
Volatility Oscillator = -7.6 (short market if below 10 or above 90)
Momentum Indicator = 30.3↓ (short market until local minimum above 30.1)
The details behind each indicator are a bit complicated; however, I wanted to provide a little more insight into what I'm looking at and what it would take for me to cover my short position.
Also, it's important to for me to restate the purpose of my short position. Whatever I take a short position in the market, it is not a prediction that the market will proceed into a steep decline. Rather, when I take a short position, it acts more of a hedge against my long positions. I hold a short position quite often. As a matter of fact, I hold a short position hedge about 75% of the time. However, on days like today, the short position can feel like an anchor.
'I wish I was a little bit taller, I wish I was a baller.'
AlphaLab