What a difference four days can make. Last week I was bearish, buying the inverse ultras, because the end of the world was upon us. This week started out cautiously in cash. Today, I started adding stocks again.
Here's the most likely scenario that is developing:
A late Q4 rally that will take us into the New Year, potentially as high as S&P 1,133—the same level at the early October breakdown.
Last Friday's reversal has ended up being more than just a one-day wonder. For one thing, we saw the highest volume since the October 10 low.
The VIX didn't break above 89.53 last week, and has now fallen back to the mid 50's.
We also may have seen the top of the T-Bond bubble, which was Thursday's panic high of 129 19/32 on the futures.
The close today back above last Wednesday's S&P 864 was another positive confirmation that we could be headed higher again. A continuing expansion of upside breath and volume next week should confirm whether or not the uptrend is in place.
Finally, the NYSE Bullish Percent jumped from 14% yesterday, to 23% today. The strong reversal this week off the bottom of 4% last week, along with the fact that we've now seen a higher bottom is a major positive.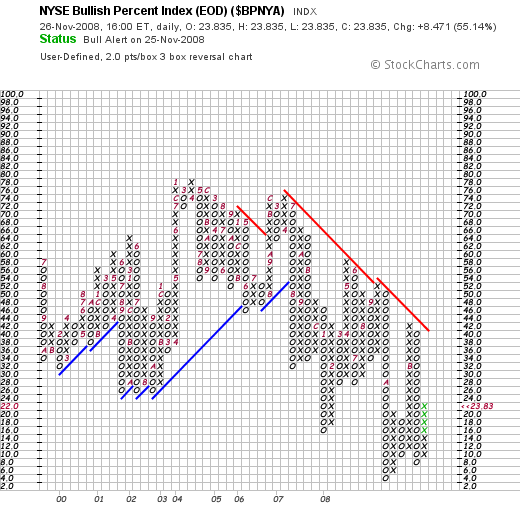 The $BPNYA is now in position to assault the 30% level, possibly Friday, but more likely on Monday or Tuesday. A break above that level would also be confirmation of an uptrend and would add creedence for a rally into the New Year.
The risk remains a break of last Friday's lows, then support at S&P 733, then next at 605. I don't believe we'll see that unless we get a large negative news event.
From here at S&P 887, the reward to risk ratio is about 1.7 to 1, using support at last Friday's low and resistance at 1133.
The sectors to focus on as a rally proceeds, are the oversold materials, energy, and global growth and infrastructure themes.
Understand that this is may be the last chance this year for hedgies and fundies to make up for a year of terrible performance. They're going to be jumping on this train, if we see more confirmation of a sustained rally early next week.
If Friday shows positive technicals with decent volume for a shortened day, I'll be adding more long positions. 
Regardless, of the outcome, we are in a bear market, so any rallies, when they develop, will probably be fairly short, perhaps 1 -2 months in length at most.
My long term view is still bearish with a bottom of this bear market cycle probably coming early to mid 2010. That means a best case scenario is that we don't go below 733 S&P, and just trade in a broad range and retest that low down the road.
I'll leave the worst case scenario to your imagination, viz. Naz 2000-2002 (-80%), Nifty 50 1972-74 (-67%), Dow 1929-32 (-89%). 
Trade/invest accordingly.
Happy Thanksgiving! 
Comments »