I think this is a stock worth throwing some money at. So I bought a Lamborghini's worth. Riding around town in such an egregious in-your-face vehicle will have to wait until HHFO*. Better to own this stock.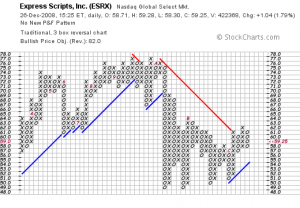 ESRX is ripe for a breakout, and it go higher in this environment, as fund managers look to reposition more of their dwindling money into the defensive healthcare sector.
Price objective is $80 – $82. Based on where I'm placing my stop, my reward-to-risk ratio is better than $10 for every $1 risked. That's what I'm talking about.
Fundamentally, this stock makes sense as the outlook for pharmacy benefit managers looks bright. Look for government, employers and health plans to help limit rising drug costs, especially in this weakening economy.
That is all.
(*HHFO = Hell has froze over)
If you enjoy the content at iBankCoin, please follow us on Twitter